This Mum Shared the Most Relatable Photo of Her Messy Lounge Room Much to Everyone's Relief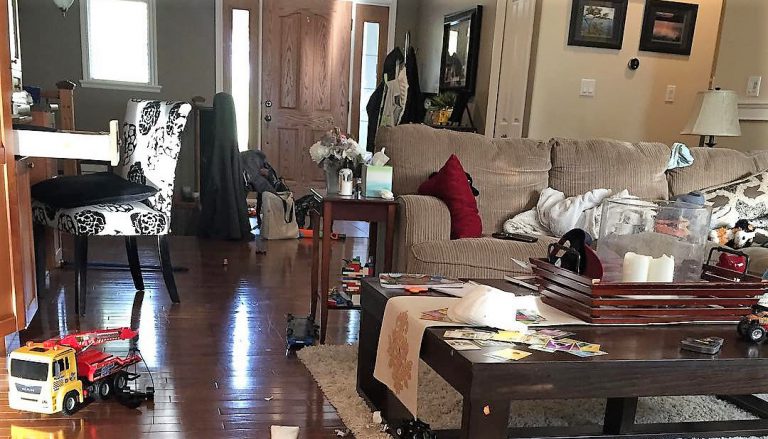 This Mum Shared the Most Relatable Photo of Her Messy Lounge Room Much to Everyone's Relief
Quick, what does your lounge room look like right now? Pristine and glorious, like the homewares section of a KMart catalogue? Or completely trashed, like a mob of short people have ransacked it with sticky fingers and no regard for scatter cushions or any sort of tidiness whatsoever?
If you're anything like the rest of us, you'll be answering the latter.
It's an uphill battle to keep your home clean and tidy when you have a family. Like they say in those memes: cleaning your house while there are children living in it is like brushing your teeth while eating Oreos. A never-ending task!
Trouble is, we often feel like we're the only ones living in a messy home, as our social media feeds are full of our friends' beautiful, stylish homes. Or at least, they look beautiful and stylish — maybe the mum quickly shoved some washing off the back of the lounge before she took that photo of her kid reading a story? We can't tell, can we?
That's why it's so refreshing to see this mum's Instagram post go viral, as all of us simultaneously nod "girl, same".
Lacey Ralston, a mum of two from Canada writes:
Sitting here with two conflicting thoughts about this picture….
1. I'm fucking tired. I'm tired of asking everyone to pick up, including myself. I'm tired of living in chaos. I'm a horrible housewife. I'm at a loss. I feel discouraged. I'm embarrassed. I want a nap. I'm fucking tired.
2. As I type, my eldest is doing the dishes. My youngest is playing with cars quietly at my feet. They are happy. I'm taking a well-deserved break and sitting on my ass. My kids are happy and very much loved. This picture shows that we have fun in this house, that we have jobs and that we are busy ensuring ourselves and our children experience life.
Why do we put so much pressure on ourselves? I think we do it more than society does: In our heads trying to be the perfect wife, mother, daughter, friend or employee. Today I take a break. Tonight I take a bath.
Yep, this. I co-sign all of this.
"Parenting is hard for all of us," Lacey told Scary Mommy. "That's something that we can ALL agree on! Talk about the shit days, post about the shit days. It's not perfect all day every day."
And despite the imperfections of her messy home, Lacey said her greatest joy is knowing that her children are very much loved and taken care of and that they're happy.  
"Watching them play together and laugh at silly things makes me happy," she said. "That alone outweighs every negative thought I have."
Life's too short to be constantly putting toys away that will only be gotten back out again within the hour. Rest when you can and let your children play. They will only be little for a short time, then you can have that pristine home for a few years before the grandies come along and trash it.
This gig is hard work, you take your breaks when you can, mamas. Screw the mess!
Source: Instagram/Lacey Ralston