School Lunchbox Ideas – Leftovers They'll LOVE!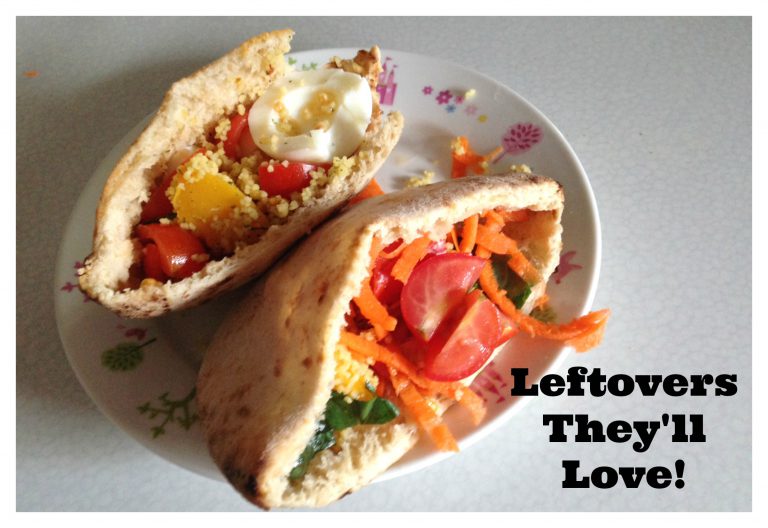 Sponsored post
When it comes to preparing lunchboxes there are a few obstacles that most of us face.
We want them to be healthy – so they can fuel little body and minds throughout the day
There needs to be variety – there is nothing wrong with a simple cheese sandwich, but eating the same thing everyday can get very tedious
Lunch preparation needs to be time-effective. I don't know many people who have the time or the inclination to whip up gourmet style lunchboxes before school each day. Minimum effort for maximum impact is my motto!
We want to know that our kids will actually eat them. Nutritious foods are no good to anyone if they end up sitting at the bottom of the classroom bin at lunchtime. Stick to what you know they like.
My solution to all of these issues is quite simple…leftovers.
Now bear with me. The key to using leftovers is to pair them with foods that turn them into a completely different meal. It's not so much disguising them, as dressing them up so it doesn't feel like you are eating the same thing for lunch that you had the night before for dinner.
Making a little bit extra at dinnertime not only saves time and effort, but can also be very cost effective. With a little forward planning, and preparation you can send them off to school with something different, nutritious and delicious each day.
My 3 Favourite Secret Weapons
It's taken me four years of school lunch preparations to find out what works for my family. These are my 3 fail-safe tips that never let me down when it comes to giving leftovers a make-over.
Secret Number One
Pita pockets! Not only are they perfect for little hands, and a great alternative to sandwiches, they are also fantastic for holding all sorts of foods (that might ordinarily fall out from between two slices of bread.
My kids always feel like they're getting a fancy-pants lunch when I pack them Pita Pockets. (Little do they know they involve absolutely no extra work for me, besides popping them into the microwave for 40 seconds before filling them (this helps them to puff up and become a handy little pocket ready to be filled).
Secret Number Two
Prepare an accompaniment to cold meat ahead of time.
Pick veggies that can be prepared and stored for a few days in the fridge without spoiling.
Carrots add flavour, crunch and colour, and are often popular with children.
Try chopping, grating, and spiralising veggies to keep the texture fun and interesting.
Tomatoes, basil, garlic and a drizzle of olive oil can be prepared and stored in the fridge on Sunday. Not only will it keep for a few days – it'll actually taste better on Wednesday than it did on Monday, as the flavours marinate!
Leftover meat from the mealtime roast can sometimes get a bit dry when left in the fridge overnight.
This tasty solution not only counters the dryness of the meet, it packs a flavoursome punch that plays well with chicken, beef, lamb, pork and sliced deli meat too. Plus the garlic is great for helping to keep the winter sniffles at bay.
The Mission Pita Pockets I've been using will hold it all and ensure that the contents end up in your child's tummy, not all over their lap and school desk!
Secret Three
It's not just leftover meat that is great inside Pita Pockets. Transform leftover vegetables in 5 minutes flat by adding couscous. Delicious warm or cold, just add boiling water to your couscous , and wait 5 minutes. Then add your leftover veggies (pumpkin and capsicum are winners in my house) and store in the fridge to add to your Pita Pockets through the week. (My kids love it in their Pita Pockets with leftover lamb and mint yogurt!)
So, there you have it!
Your family will never complain about having leftovers for lunch ever again!
What leftovers would you fill your Pita Pockets with?
For more recipes and cooking tips visit Mission Foods on Facebook
Disclosure: This post is sponsored by Mission Foods. However all thoughts and opinions expressed here are my own.