Slow Cooker Penang Chicken Curry Recipe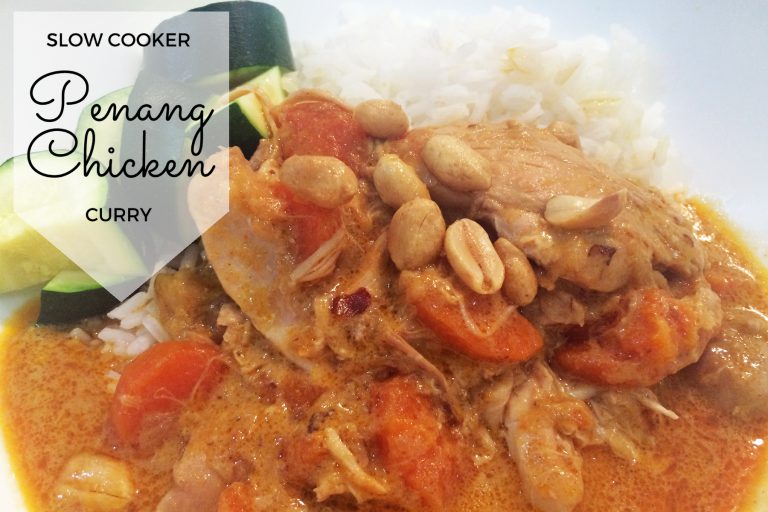 Slow Cooker Penang Chicken Curry Recipe
This creamy mild chicken curry is a great family-friendly recipe and you'll love the fact that it cooks beautifully in the slow cooker in just a few hours!
The flavour comes from a jar of Penang curry paste – a mild Malaysian curry that goes perfectly with coconut milk and chicken. It's not a spicy curry, but it is full of flavour and has a similar intensity as an Indian butter chicken, which makes it an ideal curry for children to enjoy as well.
Serve your curry with steamed greens, rice and roasted peanuts scattered on top.
Serves: 4
Prep time: 20 minutes
Cook time: 4 hours on Low, 2-3 hours on High
Difficulty: EASY
Slow Cooker Penang Chicken Curry Recipe
Ingredients
1 teaspoon peanut oil
6 (600g) chicken thigh fillets
1 brown onion, cut into thin wedges
2 carrots, sliced
2 tablespoons panang curry paste
270ml can coconut milk
1 cup chicken stock
4 kaffir lime leaves, torn
1 tablespoon brown sugar
1 tablespoon fish sauce
¼ cup roughly chopped roasted peanuts
Fresh coriander leaves, steamed rice and greens, to serve
Instructions
1. Heat oil in a large deep non-stick frying pan over medium-high heat. Add chicken. Cook for 2 minutes each side or until browned. Transfer to the bowl of a 5.5 litre slow cooker.
2. Reduce heat to medium. Add onion and carrot. Cook, stirring often, for 5 minutes or until softened. Add curry paste. Cook, stirring constantly, for 1 minute. Add coconut milk, stock, lime leaves, brown sugar and fish sauce. Stir to combine. Pour over chicken. Cover with lid. Cook on low for 4 hours or high for two to three hours, or until chicken is tender.
3. Sprinkle with peanuts and coriander leaves. Serve with steamed rice and beans.
https://mumslounge.com.au/lifestyle/food/slow-cooker-penang-chicken-curry-recipe/
Note:
You can omit kaffir lime leaves and coriander if preferred. I did because I was unable to find any kaffir lime leaves in the fresh produce section at the supermarket and because I can't stand coriander. It is the devil's herb. 😀