Spiced Pumpkin & Cauliflower Soup Recipe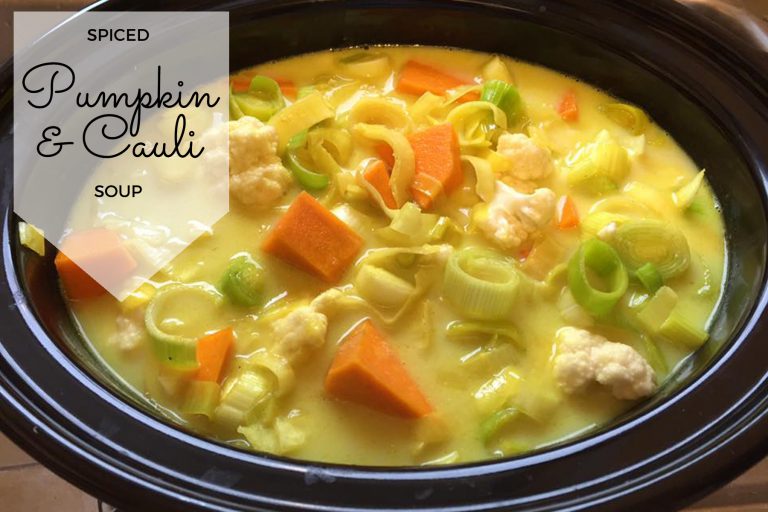 Spiced Pumpkin & Cauliflower Soup Recipe
You can't beat a delicious soup with crusty bread on a cold winters day, and this spiced pumpkin and cauliflower soup recipe fits that description perfectly!
Pop it in your slow cooker and head out for the day, then come back to this amazing hearty soup in the evening and share it with family and friends.
This meat-free soup contains chicken stock but if you wanted to make a vegan version you could easily exchange chicken stock for vegetable stock if preferred. It is also gluten free.
You could also prepare this soup in the evening and set it going at night so it's cooked by morning, ready to divide among storage containers to take for lunch at work.
You could blitz it up in a liquidiser or leave it chunky, whatever you feel like. The vegetables will cook down and thicken the soup slightly as it simmers away in the slow cooker.
This is definitely a great recipe to try this winter – cheap, tasty and absolutely delicious!
Spiced Pumpkin & Cauliflower Soup Recipe
Ingredients
Half a medium sized pumpkin, diced into large chunks
Half a cauliflower, cut into florets
1 leek,  sliced
400ml can of coconut milk
4 cups of chicken stock
1 tablespoon of coconut or olive oil
1 tablespoon of curry powder
1/8 teaspoon ground cumin
1/8 teaspoon ground cinnamon
a good pinch of sea salt
pepper to taste
Instructions
1. In a small saucepan, add the oil and spices and cook for a few minutes to allow the spices to bloom, increasing their flavour.
2. Place the pumpkin, cauliflower, leek, coconut milk and chicken stock into the slow cooker dish and turn on Low. Add the spices and mix thoroughly to combine.
3. Allow to cook for 8 hours on Low, or 4 hours on High and serve with lots of fresh crusty bread.
https://mumslounge.com.au/lifestyle/food/spiced-pumpkin-cauliflower-soup-recipe/