Creamy Garlic Surf & Turf Recipe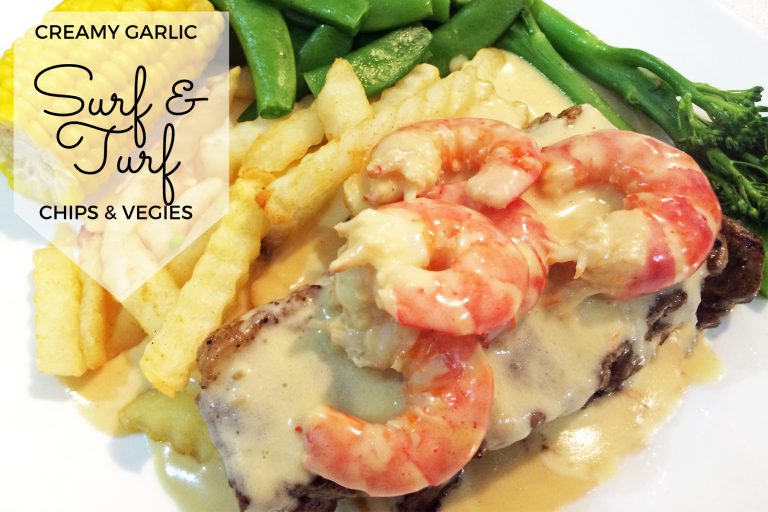 Creamy Garlic Surf & Turf Recipe
We had a stay-at-home date night this week, and my husband surprised me by making this amazing creamy garlic surf and turf recipe for us. He remembered my favourite pub meal and decided to recreate it. He did a fantastic job, and the creamy garlic prawn topper was absolutely to die for.
So add a stay-at-home date night to your calendar, and add these ingredients to your shopping list, along with a great bottle of wine and a fancy dessert. Date night = sorted!
Creamy Garlic Surf & Turf Recipe
Ingredients
4 thick cut porterhouse or sirloin steaks
12 large peeled uncooked prawns
25g butter
1 tablespoon olive oil
2 cloves garlic, crushed
1 tablespoon flour
1 cup chicken stock
2 tablespoons white wine
½ cup (125ml) cream
Salt and pepper to taste
Steamed vegies and oven fries to serve
Instructions
1. Preheat oven and cook chips as per packet directions. Prepare vegetables and steam them towards the end of the cooking process.
2. Salt and pepper the steaks and heat the grill or frying pan on high heat. Then cook the steaks for 2 mins for rare, 3 mins for medium or 4 mins for well done. Use tongs to turn and cook for a further 2 mins for rare, 3 mins for medium or 4 mins for well done. Remove from heat and allow to rest for 5 minutes before serving.
3. Meanwhile, heat butter, oil and garlic in a medium frying pan over medium-high heat until butter has melted. Add flour. Cook, stirring for 1 minute or until mixture bubbles.
4. Slowly add stock, ¼ cup at a time, stirring constantly to prevent lumps forming. Then add wine and cream. Cook, stirring for 3 minutes or until sauce boils and thickens. Season with salt and pepper.
5. Next, add prawns. Simmer, while stirring for 3 minutes or until prawns are cooked through.
6. Serve creamy garlic prawns on top of steaks with oven fries and steamed vegetables.
https://mumslounge.com.au/lifestyle/food/creamy-garlic-surf-turf-recipe/
Note:
The recipe calls for three prawns per serve which is plenty. I hogged five prawns. #sorrynotsorry