7 Delicious and Hearty Winter Soup Recipes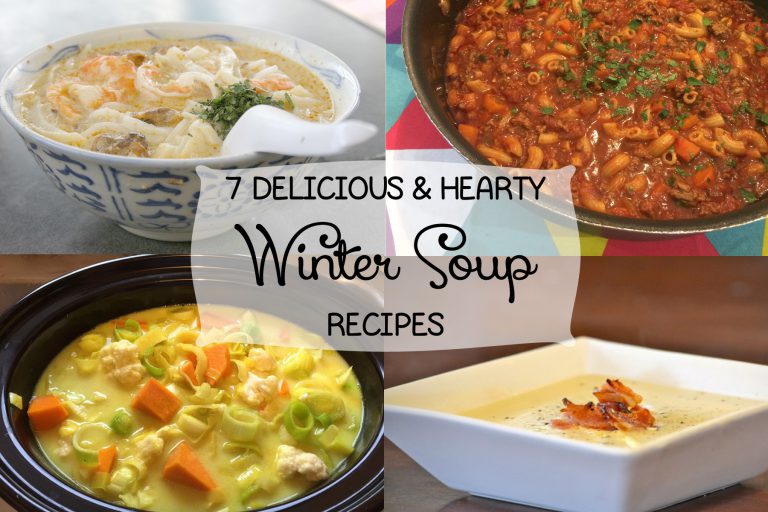 7 Delicious and Hearty Winter Soup Recipes
It's the time of year when we all yearn for a big bowl of hearty soup to warm our souls and keep us going on the cold winter days. Here are 7 delicious and hearty winter soup recipes from our archives.
We're always after something new to make with mince, and this hearty beef and tomato macaroni soup recipe fits the bill perfectly. Especially if you have picky eaters who will only eat spaghetti bolognaise!
It is basically a bolognaise soup with pasta in it. Nothing super fancy or sophisticated there, but ohh, it's so yummy and something the whole family will love!
There is plenty of room to add loads of vegies if you like – think zucchini, capsicum, mushrooms, tinned beans etc. I didn't have any on hand so I only added diced carrot, and it came out beautifully. You can also add things like chilli flakes or red wine to beef up the flavour, but I found it scrumptious the way it is.
Serve it with fresh crusty bread and you'll have a winter warmer that they'll ask you to make again and again.

You can't beat a delicious soup with crusty bread on a cold winters day, and this spiced pumpkin and cauliflower soup recipe fits that description perfectly!
Pop it in your slow cooker and head out for the day, then come back to this amazing hearty soup in the evening and share it with family and friends.
This meat-free soup contains chicken stock but if you wanted to make a vegan version you could easily exchange chicken stock for vegetable stock if preferred. It is also gluten free.
You could also prepare this soup in the evening and set it going at night so it's cooked by morning. Then just divide among storage containers to take for lunch at work.
You could blitz it up in a liquidiser or leave it chunky, whatever you feel like. The vegetables will cook down and thicken the soup slightly as it simmers away in the slow cooker.
This is definitely a great recipe to try this winter – cheap, tasty and absolutely delicious!
Lemak means 'creamy' and this creamy coconut milk Laksa from Singapore and the Straits of Malacca is the version best known in Australia. It can be adapted to include almost any seafood you like, including mussels, scallops and any firm-fleshed fish. Just remember not to overcook the seafood as it will continue cooking in the residual heat of the soup.
This delicious Fennel & Leek Soup with Roast Capsicum Yoghurt recipe features special instructions to make with your children. Or you could just make it yourself, children aren't strictly required in the preparation process! The roast capsicum yoghurt is amazing.
Chicken noodle and sweetcorn soup was what I came up with when my littlest girl was sick one day. I was meant to do the grocery shopping that day and had planned to pick up something for dinner while at the shops. Instead, we spent the day snuggled up watching Peppa Pig on the lounge, while I wracked my brain thinking of what I could make for dinner. This is what I came up with.
Everything here involves pantry staples and things I had in the freezer. I was floating about like Mary Poppins adding a spoonful of this and a sprinkle of that and was thrilled with the result, as was my little girl. There's nothing fancy here, just good basic food that needs no airs and graces.
Sometimes you just want to snuggle up and have some soup and noodles. Peppa Pig is optional.

There is just something so comforting about a bowl of homemade soup, isn't there?
Soup is a firm favourite in my house. It is quick and easy to make, it's economical, and I can pack it full of nutritious veggies and I know the kids will scoff it!
I love this Cauliflower and Parmesan Cheese soup because even children who profess to detest cauliflower will be coming back for more!
This wonderfully healthy quick and easy chicken and vegetable soup recipe is one to keep. In no time at all you'll have a nourishing and satisfying meal to stave off those winter blues! And if you feel extra nifty, you can make your own chicken or vegetable stock in just a few steps.