St Patrick's Day Desserts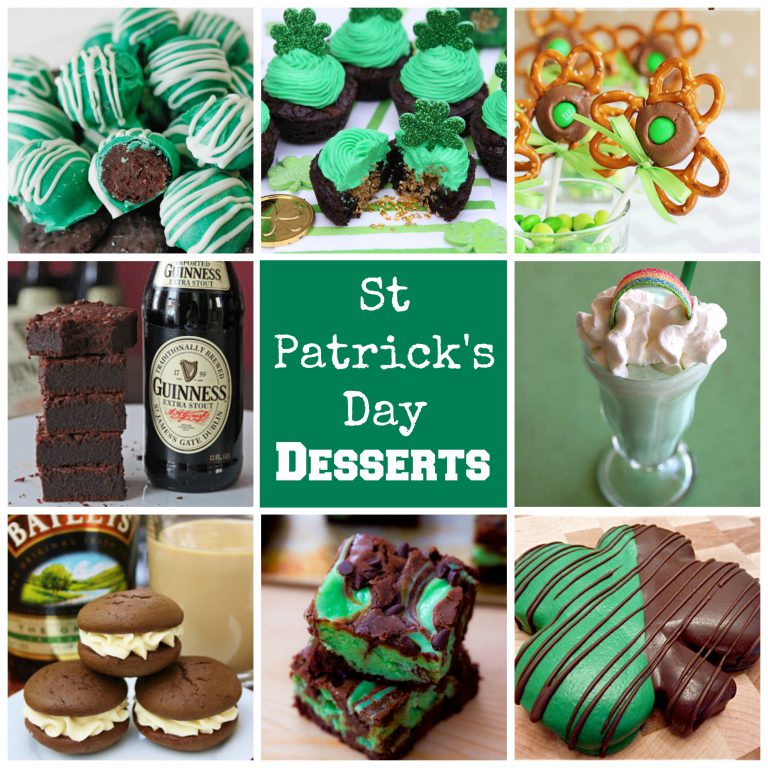 While many of us will be celebrating St Patrick's Day on the 17th March with a Guinness (or perhaps a green milkshake), why not treat yourself to one of these drool worthy green desserts!
For an adults-only cheeky treat, a batch of Irish Cream Whoopie Pies are sure to get any St Patrick's Day party off to a flying start. PS. If you have a little sip or two while you're cooking, we promise we won't tell anyone.
For another adults-only treat, why not make a batch of Leprechaun Balls. With a little taste of Baileys and Irish Whiskey, they're a great after-dinner treat.
For a delicious dessert that the whole family can enjoy, why not make a Shamrock Kit Kit Cake. It's so easy!
If you can get your hands on a clover shaped cookie cutter, then these Chocolate Covered Shortbread Cookies would make the perfect addition to your St Pat's Day party!
It's hard to beat a good old Oreo dipped in chocolate! Give this classic treat a St Patrick's Day edge by decorating with green chocolate. Yum!
If there's one thing I can never say no to, it's a dense, rich chocolate truffle. Guests at your St Pat's Day party will love you for making a batch of these Thin Mint Truffles.
For all of you S'mores fans out there (and yes we know there's lots and lots of you!), why not get creative and make Leprechaun Hat S'mores. They're almost too cute to eat… almost!
If there's one dessert that's sure to be a winner with your guests, it's got to be a batch of decadent brownies. Add in a little Guinness to give these chocolate brownies a St Pat's day flair!
St Patrick's Day just wouldn't be the same without a green Shamrock Shake! With a little rainbow and clouds on top, these delicious drinks will have everyone swooning!
If you're after a brownie recipe that the kids can enjoy too, then these Mint Chocolate Chip Cheesecake Brownies are the bomb! If you can manage to leave them long enough to cool, you'll be blown away by the rich, creamy texture.
These Hidden Pot of Gold Brownie Cupcakes are just the best thing ever! Imagine everyones surprise as they bite into the chocolate brownie, only to find 'gold' inside!
If you're looking for a fun St Patrick's Day activity to get the kids involved in, these these Shamrock Pretzel Pops are perfect! Not only do they look fantastic, they taste amazing too!
How will you be celebrating St Patrick's Day?