Tandoori Chicken Salad with Cucumber Rice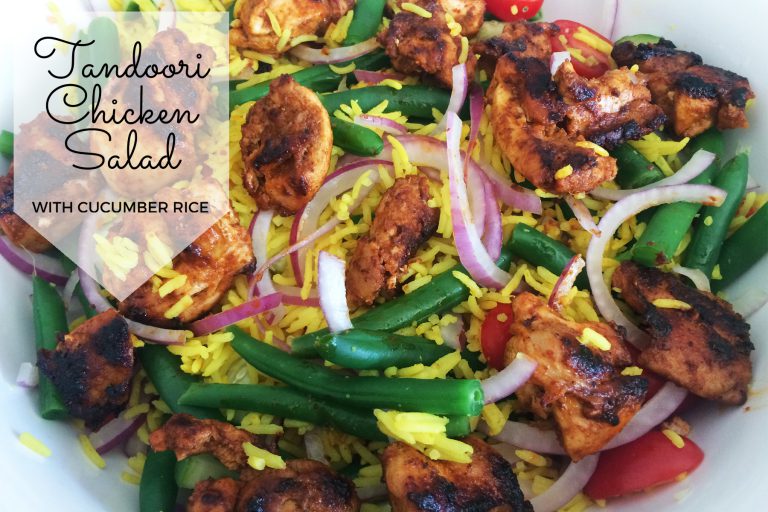 Tandoori Chicken Salad with Cucumber Rice
Enjoy this tasty tandoori chicken salad with juicy cherry tomatoes, green beans, cucumber and bright yellow turmeric basmati rice. This fresh salad is simple to prepare and refreshingly different from the usual boring summer salads.
Make sure you have a little bit of time up your sleeve, as while this meal is quick to throw together, you need to marinate the chicken for one hour before cooking. You can use this time to cook the rice and allow to cool as well.
Firstly though, chop the chicken thighs into 3cm pieces and place in a bowl with one tablespoon each of tandoori past and natural yoghurt. Stir to combine them and then refrigerate for one hour to develop the flavours. Smells so good already!
Cook the basmati rice and ground turmeric with the absorption method via packet directions and allow to cool completely.
After the chicken has marinated for an hour, heat a frying pan with a little olive oil in it and cook the chicken in batches and set aside to cool.
Blanch the beans and chop the veggies, then toss them together with the rice. Top with chicken and drizzle with a mango chutney dressing (if using, we didn't as the kids didn't like it very much).
Easy!
Tandoori Chicken Salad with Cucumber Rice
Ingredients
6 chicken thigh fillets, cut into 3cm pieces
1 tablespoon tandoori paste
1 tablespoon natural yoghurt
1 cup basmati rice
1/2 teaspoon ground turmeric
1 Lebanese cucumber, coarsely chopped
1 red onion, thinly sliced
200g cherry tomatoes, halved
150g green beans
MANGO CHUTNEY DRESSING (optional)
2 tablespoons mango chutney
1 tablespoon apple cider vinegar
1 tablespoon olive oil
Instructions
Combine the chicken, tandoori paste and yoghurt in a medium bowl. Set aside for 1 hour to develop the flavours. Meanwhile, cook the rice with the turmeric following packet directions. Set aside to cool completely.
Heat a large non-stick frying pan over medium-high heat. Cook the chicken, in 2 batches, turning, for 3 mins or until golden brown and cooked though. Set aside to cool completely. Cook the beans in boiling salted water for 1 minute, then drain and run under cold water.
To make the mango chutney dressing, whisk the mango chutney, vinegar and oil in a small bowl. Season.
Add the salad ingredients to the rice and toss to combine. Top with chicken and drizzle with the dressing to serve.
https://mumslounge.com.au/lifestyle/food/tandoori-chicken-salad-cucumber-rice/