The BEST Hedgehog Slice Recipe!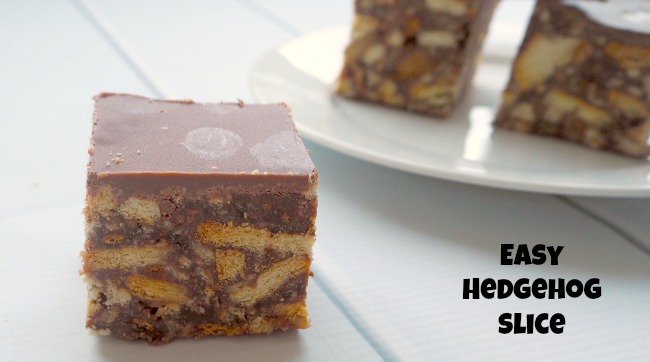 There are more than a couple of Hedgehog Slice recipes floating around out there and everyone I talk to seems to think they have the best Hedgehog Slice recipe ever created.  However I'm here to tell you that this Hedgehog Slice recipe is hands down the best there is.
The BEST Hedgehog Slice Recipe!
Ingredients
2 packets of plain biscuits - Marie or similar
250g of butter
3 tablespoons of cocoa
4 tablespoons of shredded coconut
1 tin of condensed milk
200g of milk chocolate
Instructions
Line a 18 x 28cm slice tin with baking paper, make sure you leave plenty of paper hanging over the edges.
Place the biscuits into a large bowl and using the end of a rolling pin break them up until you have a combination of fine crumbs and larger pieces. Set the bowl with the biscuits in it to the side.
In a small saucepan add the condensed milk, and butter (cut into cubes) and cook over a low heat until the butter has melted and the ingredients have combined.
Pour the melted ingredients into the bowl with the crushed biscuits and add the cocoa and shredded coconut. Stir all of the ingredients together using a large metal spoon.
Pour the mixture into the prepared slice tin and using the back of a spoon flatten the surface.
Break the milk chocolate into squares and place it in a microwave safe bowl. Cook for 30 second spurts until it has melted.
Pour the melted chocolate over the top of the slice and place the tray into the fridge for 2 hours or until set.
Cut the chilled slice into pieces and enjoy
https://mumslounge.com.au/lifestyle/food/the-best-hedgehog-slice-recipe/
It's a little different to the 'traditional' Hedgehog recipes you might see as it doesn't contain walnuts and is also made from condensed milk.  The beauty of this recipe is it's simplicity, all you need is a few ingredients and a little time and you will be sitting down enjoying a piece of this delicious slice before you know it.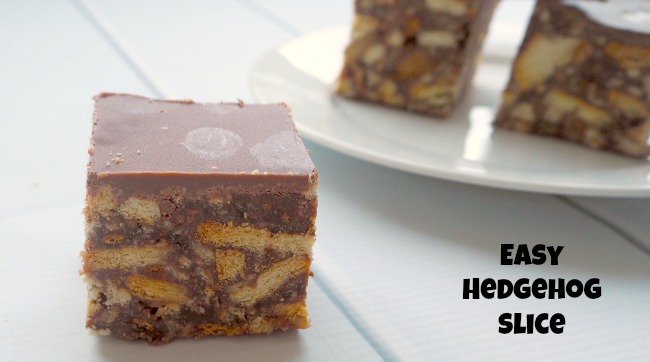 Have you tried this Hedgehog Slice recipe before?
What's your favourite way to make Hedgehog Slice?