Thermomix Recipe: Malteser Slice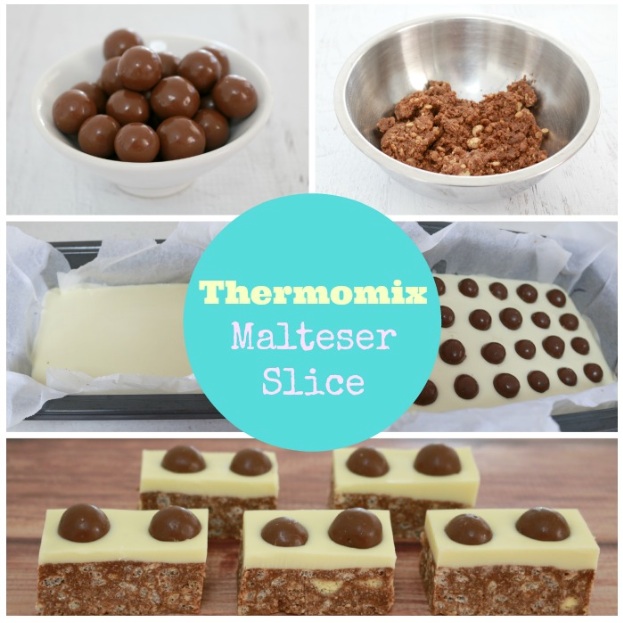 No Bake Malteser Slice
I'm a self-confessed chocoholic so any chance to make a chocolate slice is more than ok by me. One of my favourite chocolate treats is a sneaky bag of Maltesers. I've been known to hide them in the shopping trolley on more than one occasion. For the last few years I've been making Malteser Slice and it's one of those slices that just keeps getting requested by friends and family. Anyway, I thought that it was definitely time to make this delicious recipe Thermomix friendly!
I love that this is a no-bake slice and can be whipped up in a flash. And the best part about it is that is looks really fancy, even though it's an absolute cinch to make (but nobody needs to know that, right!?).
By cutting the Maltesers and placing them face-down on top of the chocolate ensures that they stay nice and crispy. If you're planning on making and eating the slice on the same day, then you can always crush them up on top instead!
So let's get into the recipe…
Thermomix Recipe: Malteser Slice
Ingredients
250g pkt plain sweet biscuits (like Marie biscuits)
2 cups rice bubbles (or any puffed rice cereal)
125g butter
395g tin condensed milk
2 tbs cocoa
185g pkt maltesers, cut in half
200g white chocolate
1 tbs coconut oil (optional)
 
Instructions
Grease and line a 22cm X 23cm rectangular slice tin with baking paper.
Place biscuits into the TM bowl and crush on Speed 5 for 5 seconds.
Set crushed biscuits aside.
Place butter, condensed milk and cocoa into the TM bowl and melt on Speed 3, 60 degrees for 3 minutes (or until completely melted).
Place crushed biscuits, rice bubbles and ¾ cup halved Maltesers into the TM bowl.
Mix on Reverse Speed 2 for 20 seconds (or until completely combined)
Press firmly into tin.
Place into fridge.
Break white chocolate and coconut oil into the TM bowl and melt on Speed 3, 60 degrees for 3 minutes (or until completely melted).
Pour over slice.
Press remaining halved maltesers face-down into the chocolate.
Place into the fridge until set and then cut into slices.
Store in the fridge in an airtight container for up to 1 week.
https://mumslounge.com.au/lifestyle/food/thermomix-recipes/thermomix-malteser-slice/
Prep time: 15 minutes
Makes: 16 slices
Malteser Slice is absolutely perfect for lunchboxes, morning tea or just for a cheeky late night treat! And as always, the Thermomix makes this simple recipe even quicker and easier. What is your favourite no-bake slice?