Thermomix Pizza Scrolls Recipe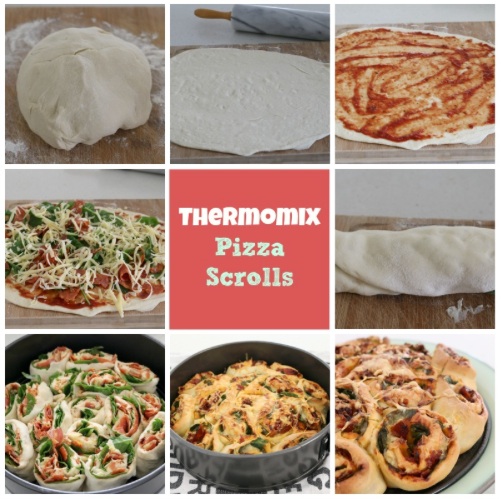 Thermomix Pizza Scrolls
When I bought my Thermomix, one of the first things I experimented with was making dough.. for bread, pizzas, rolls and scrolls! I just love how quick and easy the Thermomix makes baking all of these bready-delicious things. And the amount of money I save from making my own bread products is huge!
By far one of the most requested things in my house is for my Thermomix Pizza Scrolls.
Sometimes I like to play around with the fillings and add in lots of yummy things (usually depending on whatever is in the fridge), but this is my classic Thermomix Pizza Scroll recipe.
After making the dough in the Thermomix and leaving it to rise, you roll it out into long logs and spread pizza sauce over the top (you can also use tomato paste). From there you simply add baby spinach (for a bit of healthiness!), chopped salami and grated cheese.
Then you roll the dough up into a log shape and cut into slices with a very sharp knife.
Finally, place the scrolls into a well-greased round cake tin (one with a removable base is even better). Cook in a 180 degree celsius oven for 35 minutes.
You'll know the scrolls are ready when you tap them in the middle and they sound hollow.
These are totally amazing straight out of the oven but are just as good popped into lunch boxes too.
Thermomix Pizza Scrolls Recipe
Ingredients
225g lukewarm water
• ½ tbs dried instant yeast
• 1 tsp sea salt
• 375g plain flour
• 50g olive oil
• ½ cup pizza sauce
• 2 handfuls baby spinach leaves
• 100g sliced salami, chopped
• 2 cups grated tasty cheese
Instructions
Grease a 20cm cake tin (preferably one with a removable base).
Place the water, yeast, salt, flour and oil into the TM bowl.
Mix on Speed 6 for 10 seconds.
Knead for 2 minutes.
Take the dough out of the bowl and place on a lightly floured surface.
Knead into a ball.
Place the dough ball into the Thermoserver with the lid on to rise for 30 minutes (alternatively, you can place it in a bowl covered with a tea towel in a warm spot).
Preheat the oven to 180 degrees celsius.
Divide the dough into 2 equal sized pieces.
Roll into a long, flat shape, about 2cm thick.
Spread half of the pizza sauce over the dough.
Top with half of the baby spinach leaves, chopped salami and cheese.
Roll the dough up into a long skinny log.
Use a very sharp knife to cut the dough into slices.
Place the scrolls cut side up into the round cake tin.
Repeat with the remaining dough, pizza sauce, baby spinach, salami and cheese.
Pop the tin into the oven and cook for 35 minutes or until hollow when tapped.
Serve.
https://mumslounge.com.au/lifestyle/food/thermomix-recipes/thermomix-pizza-scrolls/
What are your favourite scroll fillings?
Find Lucy Mathieson on Google +