Thermomix Recipe: Easy Sweet Chicken Curry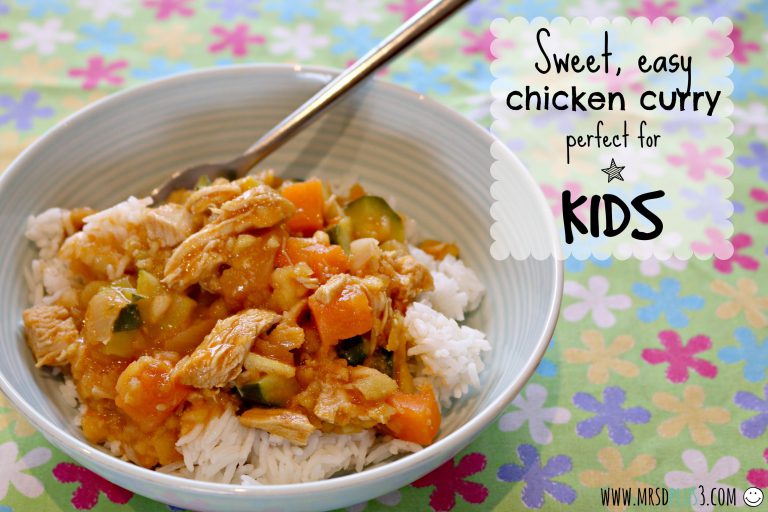 Easy sweet chicken curry in the Thermomix
This recipe is perfect for kids as it's quite sweet and not at all hot. Mum and dad might just have to add a little extra chili at the end to enjoy a more gown up version. My kids are the fussiest eaters and they LOVE this dish. It's freezable too which is an added bonus for those days when you've got a busy afternoon of kids activities and need dinner fast!!
Thermomix Recipe: Easy Sweet Chicken Curry
Ingredients
1 apple
1 zucchini
2 carrots
1 tbsp of fruit chutney
1 onion
2 tbsp of olive oil
2 tsp curry powder
1 tbsp vegetable stock paste
300g water
500g chicken breast cut into chunks
2 tbsp of plain (or gluten free) flour
1 tbsp of tomato paste
1 tsp rice malt syrup or honey
2 tbsp desiccated coconut
Instructions
Place the apple into the thermomix and chop on speed 4-5 for 5 seconds. Scrape down the sides and add the chutney. Mix on reverse speed 3 for 5 seconds. Set aside.
Chop the carrots and zucchini for 3 seconds on speed 4. Set aside.
Chop the onion on speed 5 for 5 seconds. Add the oil and curry powder and sauté for 3 minutes on varoma temperature, reverse speed 1.
Add all the remaining ingredients except the apple and cook for 10 minutes on varoma temperature, reverse speed soft.
Add the apple and cook for a further 10 minutes on 90 degrees, reverse speed soft.
Serve up with some coconut rice and enjoy.
https://mumslounge.com.au/lifestyle/food/thermomix-recipes/thermomix-recipe-easy-sweet-chicken-curry/
This recipe takes about 5 minutes to prepare and 20 minutes to cook. (Plus the rice cooking time).
Robyn is a thirty something, British, stay-at home-mum of three, living on Sydney's beautiful Northern Beaches. I'm also married to my best friend (who helps reduce the chaos). I'm a fairly new lover of cooking & couldn't live without my Thermomix. I'm not the hugest fan of craft (or mess for that matter) but we give it a go occasionally. I never leave the house without my camera and am always striving to get that perfect shot! Stick around for some honest & amusing stories about motherhood, Thermomixing, photography, surviving the school run, camping with kids and just about everything in-between.
You may also like:
Thermomix Recipe: Double Chocolate Chip Cookies
Thermomix Recipe: Creamy Bacon, Cauliflower and Pea Pasta Bake
Make Your Own: Easy Mars Bar Slice
Make Your Own: Sausage Rolls Recipe