Thermomix YoYo Biscuits Recipe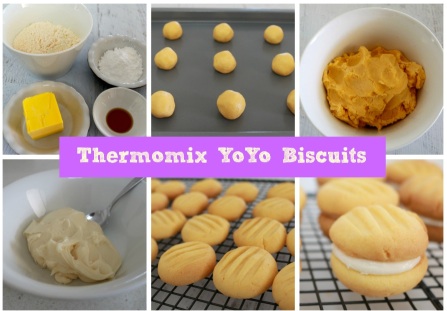 Thermomix YoYo Biscuits
Yoyo biscuits are a classic family favourite… And now we've made them Thermomix friendly too!
Yoyo biscuits are one of those biscuits that are sure to be gobbled up as soon as they hit the biscuit tin (if they even make it that far!). I have such lovely memories of baking yoyo biscuits with my mum when I was little. The recipe we used to use was so popular in our house that the page was totally worn (and covered in little bits of biscuit dough too!).
Anyway, it's about time that my favourite original recipe was updated to make it Thermomix friendly. I love that the Thermomix makes these yoyo biscuits even simpler, able to be whipped up in a flash, and yet still taste totally amazing. They're so good that you'll think your grandma made them – they really are that good!
Yoyo biscuits have the most incredible, melt-in-your-mouth shortbread texture. They certainly make the perfect addition to your afternoon tea or as a super yummy lunchbox treat.
And really, we all know that the only thing better than a delicious cookie is TWO delicious cookies sandwiched together with the sweetest, creamiest filling. Oh yep you know you're going to love these!
So go on… Make these delicious Thermomix yoyo biscuits today!
Thermomix YoYo Biscuits Recipe
Ingredients
180g butter
• 1 tsp vanilla essence
• ⅓ cup icing sugar
• 1 cup self raising flour
• ½ cup plain flour
• ½ cup custard powder
• For the filling: • 250g icing sugar
• 40g butter, at room temperature
• 2 tsp vanilla esence
• ½ tsp lemon juice
Instructions
Preheat oven to 180 degrees celsius.
Line two baking trays with baking paper.
Measure the self raising flour, plain flour and custard powder into the TM bowl and sift on Speed 3 for 30 seconds to combine.
Place the flour mixture into a separate bowl and set aside.
Place the room temperature butter, vanilla essence and icing sugar in the TM bowl.
Beat on Speed 4 for approximately 1 minute or until the mixture is pale, fluffy and smooth.
Add the flour mixture and combine on Speed 1, slowly increasing to Speed 4 until smooth and completely combined (if your mixture is too sticky, add a little more flour).
Roll mixture into teaspoonful sized balls and place 5cm apart on the prepared baking trays.
Press the tops of the balls lightly with a fork.
Bake for 10-12 minutes or until just lightly golden.
Leave to cool on the trays for 10 minutes before moving to a wire rack to cool completely.
To make the filling, combine the butter and icing sugar on Speed 4 until pale and smooth.
Add the vanilla essence and lemon juice.
Beat for 1 minute or until smooth and fluffy.
Join two biscuits together with 1tsp of filling.
Store in an airtight container.
https://mumslounge.com.au/lifestyle/food/thermomix-recipes/thermomix-yoyo-biscuits/
What is your favourite classic recipe?