Thin & Crispy Bacon & Egg Pizza Recipe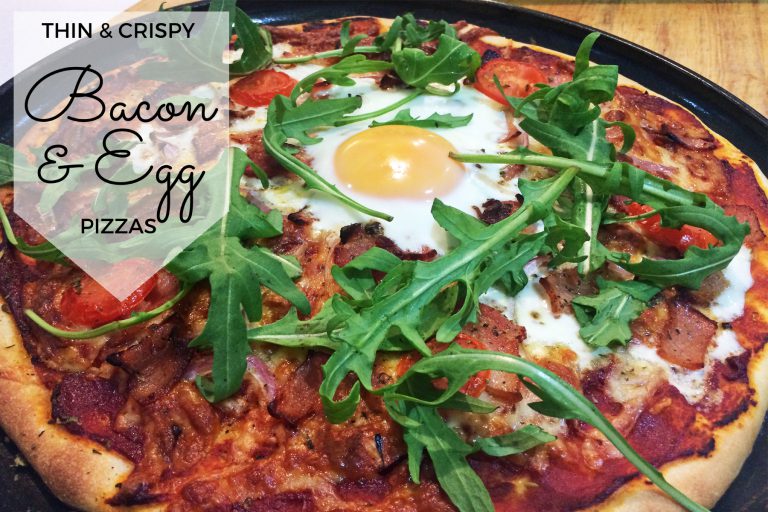 Thin & Crispy Bacon & Egg Pizza Recipe
We all know how easy it is to pick up the phone and order a pizza. Hell, they even have apps where you only need to press one button to get a pizza on the way! As convenient as that is, it will cost you. And you can easily (and fairly quickly) make your own pizzas with this go-to pizza base recipe. Most of the ingredients are pantry and fridge staples, and you can save at least $35 making them yourself.
We made this recipe after leaving it too late to figure out what to make for dinner. It was grand final day, after all, and we were a little distracted! We didn't want to spend over $40 ordering pizzas to feed our family, so we decided to make them ourselves.
We raided the pantry and fridge and realised we had enough ingredients to throw together some pretty decent bacon and egg pizzas. You can add whatever you have to your pizzas, it's the bases that are the best part!
Here is what you'll need to get started on this money saving crowd pleaser.
For the dough: warm water, dried yeast, just a pinch of caster sugar, plain flour, salt, olive oil and oil spray.
And for the toppings: grated cheese, thinly sliced cherry tomatoes, thinly sliced red onion, bacon, tomato paste, some pizza seasoning, some eggs and some baby rocket leaves to serve.
The dough takes roughly 45 minutes to complete including resting time, and once you've prepared all the toppings, the pizzas take about fifteen minutes to cook. Not too long at all!
Sprinkle some baby rocket leaves on the top and you'd never know that you'd raided the pantry an hour earlier!
Thin & Crispy Bacon & Egg Pizzas
Ingredients
375ml warm water
2 teaspoons (7g) dried yeast
Pinch of caster sugar
4 cups plain flour
1 teaspoon salt
¼ cup olive oil
Olive oil spray
3 heaped tablespoons tomato paste
5 large cherry tomatoes, sliced
½ red onion, sliced
4 rashers of bacon, chopped
3 cups grated cheese
3 eggs
Pizza topper seasoning
Fresh rocket to serve
Instructions
Combine the water, yeast and sugar in a small bowl. Set aside for 5 minutes or until foamy. Combine the flour and salt in a large bowl and make a well in the centre. Add the yeast mixture and oil. Use a round-bladed knife in a cutting motion to mix until the mixture is combined. Use your hands to bring the dough together in the bowl.
Spray a bowl lightly with oil. Turn the dough onto a lightly floured surface and knead for 10 minutes or until smooth and elastic. Place in the prepared bowl and turn to coat in oil. Cover with plastic wrap and set aside in a warm, draught-free place to rise for 30 minutes or until dough doubles in size.
Preheat oven to 220C fan forced. Divide pizza dough into thirds and spread out onto pizza trays. Add topping ingredients except the eggs and bake for 8 minutes until cooked and golden. Crack one egg onto the top of each pizza and return to the oven for another 7 minutes. Serve immediately with fresh rocket leaves.
https://mumslounge.com.au/lifestyle/food/thin-crispy-bacon-egg-pizza-recipe/