Tomato & Sausage Pizzas Recipe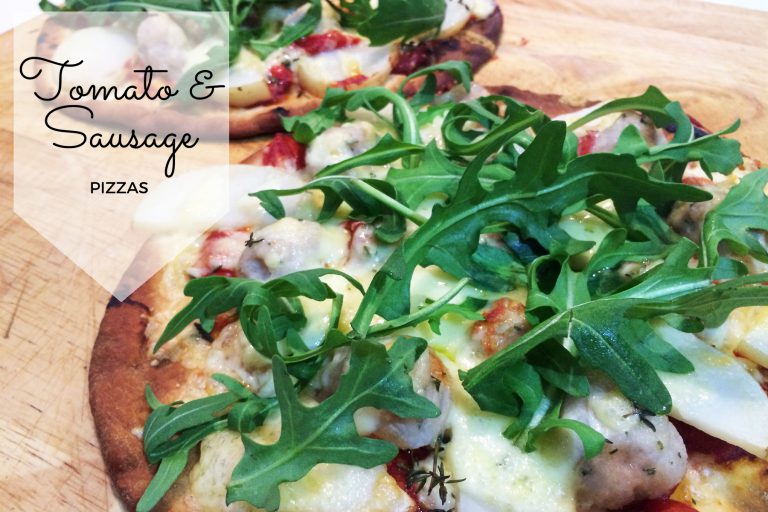 Tomato & Sausage Pizzas Recipe
Have dinner on the table in just 25 minutes with these delicious tomato and sausage pizzas. Topped with a homemade cherry tomato and garlic sauce, sausage meatballs, slices of potato, melted cheese and baby rocket, these pizzas are simple to make and yummy to eat.
The ingredients won't break the bank either! Choose whatever sausages you like – I used some chicken and parsley sausages I found on special at my local supermarket but they certainly don't need to be chicken sausages. Use whatever you have on hand, or see if you can find yourself a bargain too.
I didn't have any baby chat potatoes, so I used smallish normal washed potatoes. The very best recipes are versatile.
Crush some of the tomatoes with a fork and mix through the garlic to make the sauce for the pizza bases. If you're not happy with the consistency, add some tomato paste or tomato sauce to the mix. Spread it over your pizza bases.
Squeeze the meat out of your sausage casings and make little meatballs. Get the kids involved in this step, they always love helping make pizzas!
While it looks like little people made these ones, they were actually my husband's efforts. I might have made them with a little more care (maybe fixed the meatball ratio between the pizzas too), but you can't complain when someone else is making dinner, right? I know when to keep my mouth shut. 😀
Add the slices of potato to the pizzas as well, and sprinkle with fresh thyme and grated cheese. Don't worry about the slices of potatoes not having enough time to cook – they come out surprisingly well! Not too soft but not crunchy either.
Bake the pizzas in the oven for fifteen minutes or until golden. Serve topped with baby rocket leaves and enjoy!
And it's always yummier when you don't have to make it yourself!
Tomato & Sausage Pizzas Recipe
Ingredients
2 x 20cm round pizza bases
125g cherry tomatoes, halved
1 clove garlic, crushed
3 thick sausages (your choice of flavour)
8 baby potatoes, sliced
2 tsp thyme leaves
½ cup grated tasty cheese
60g baby rocket leaves
Instructions
Preheat oven to 220°C. Place the pizza bases on oven trays.
Using a fork, roughly mash three-quarters of the tomatoes and the garlic in a bowl. Spread mixture over the pizza bases.
Squeeze sausage meat from casings and roll into small meatballs. Top pizza bases with potato, meatballs and thyme. Sprinkle with cheese.
Bake the pizzas for 15 minutes or until golden brown. Serve topped with rocket leaves.
https://mumslounge.com.au/lifestyle/food/tomato-sausage-pizzas-recipe/