White Chocolate Christmas Brownies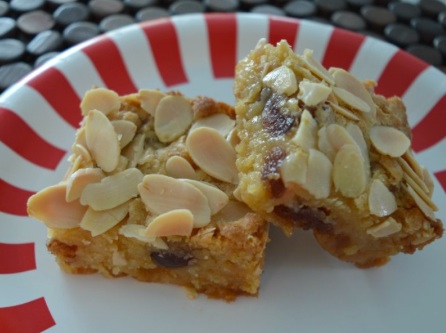 White Chocolate Christmas Brownies
Baking delicious Christmas goodies is one of my favourite activities in the weeks leading up to Christmas. There is nothing better than listening to Christmas carols whilst creating and baking with the kids. It's also a time when we make goodies we would never think to bake at other times of the year – which makes them all the more special.
These White Chocolate Christmas Brownies are based on a recipe from the Taste.com website. It's one of my favourite slices to make in the lead up to Christmas. The roasted almonds help to balance out this deliciously sweet slice, making it difficult to stop yourself at just one piece!
This slice makes a great homemade Christmas gift, package a few slices in a cute Christmas container (you can pick them up cheaply at discount stores) or wrapped in cellophane and decorated with a Christmas ribbon or bow. This would also be the perfect snack to leave out for Santa on Christmas Eve – I have no doubt he would love it!
White Chocolate Christmas Brownies
Ingredients
200g of white chocolate - chopped into small pieces
125g butter
100g of red glace cherries - halved
1 1/4 cups of plain flour
1 cup of caster sugar
2 eggs - lightly whisked
100g flaked almonds
Instructions
Preheat your oven to 160°C. Line a slice tin with baking paper, leaving paper hanging over the sides.
Half fill a saucepan with water and heat on the stove until it begins to simmer. Place the chocolate and butter in a large heatproof bowl and place over the top of the saucepan - making sure the water doesn't touch the bowl.
Stir with a metal spoon until the chocolate melts and mixture is smooth. Carefully remove from the top of the saucepan and set aside to cool slightly.
In a separate bowl, combine the cherries, flour, sugar and egg before stirring through the melted chocolate mixture.
Once it's well combined, spoon the mixture into the lined slice tin and use the back of a spoon to smooth the surface. Sprinkle the flaked almonds over the top of the slice.
Bake for 40-45 minutes or until a skewer inserted into the centre comes out clean. Set aside in the pan to cool completely.
Cut the brownie into squares to either enjoy now or place in a Christmas tin, wrap in cellophane for gifts.
https://mumslounge.com.au/lifestyle/food/white-chocolate-christmas-brownies/
What combination of ingredients remind you of Christmas?
Lauren Matheson: Google +