Breakfast Ideas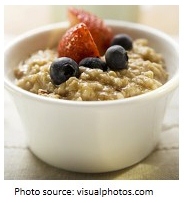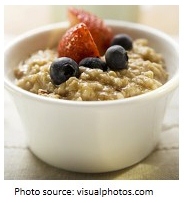 Breakfast is my weakness. A piece of toast with peanut butter slapped on is not my idea of a healthy breakfast, however more often than not, this is what I am eating. Yet, the nutritionists claim breakfast is the most important meal of the day.
So this article is not just for your benefit … but for me too! I've done some research, asked good friends and here are the ideas found.
Quick, Healthy Breakfasts
These are ideal week-day breakfast ideas for those on-the-go
Oat porridge with berries, or banana & honey (soften oats in water for 10 minutes, then warm in microwave). Top with frozen berries (also warmed in microwave)
Fresh fruit salad on its own, or topped with cottage cheese or yoghurt
Bran with fruit and skim milk
Smoothie's (blend your favourite fruit with water and protein powders)
Wholemeal toast with cottage cheese and sliced tomato (add some chopped chives into the cottage cheese)
Yoghurt with natural muesli and berries
Bruschetta on toast (sliced tomato and herbs)
Wholegrain cereal with milk or yoghurt and fruit
Scrambled tofu (add some onions, vegies, soy sauce) and serve with toast
Crumpets or English muffins with honey, jam or home-made lemon butter
Raisin toast with ricotta and strawberries
Celery, apple and ginger juice
"Made the day before" Breakfast Ideas
• Toasted banana bread
• Homemade veggie muffins. Cut in half, grill them slightly and top with honey or jam
Takeaway Breakfast Ideas
• Up & Go's
• Raisin toast
• Fruit, light cheese and low fat crackers
Leisurely Indulgent Breakfasts
These are delicious breakfast ideas, however they are not all time efficient, low in fat or cholesterol, and should be eaten in moderation. If you get up 15 minutes earlier, you could however, squeeze one of these in during the week!
Omelette (you can include any of these ingredients: garlic, shallots, mushrooms, corn, spinach, crumbled feta) and top with cherry tomatoes and herbs. For a healthy version, just use egg-whites.
Baked beans on toast topped with a fried egg
Scrambled eggs on toast with cherry tomatoes
Cottage Cheese Pancakes (with optional Roasted Capsicum Salsa). We love these – very low fat and delicious!
Poached eggs on toast (my hubby makes amazing poached eggs!). Click here for instructions.
French Toast served plain, buttered or with favourite spread (3 slices bread dipped in combined 1 egg and ¼ milk, then fried).
Fruit pancakes
Home made hash browns or fritters
Crepes with lemon and butter
Bacon and Egg Muffin or Sandwich (and tomato sauce!)
Soft-boiled egg with soldiers (skinny fingers of toast)
*Side serves can include grilled bacon, sausages, asparagus, tomatoes, fresh spinach, avocado, yoghurt and of course, fresh fruit!
Well, they all sounded pretty good to me! Give them a try and let me know what you like, and if you have any other breakfast ideas as well.
Hi, I'm Alison and I created Undertendollars because I enjoy sharing ideas and creating things with my family and friends, on a budget. I hope you enjoyed this article … see the Undertendollars website for more tips on saving stress, time and money.
www.undertendollarsblog.com