Quick & Easy Chicken & Vegetable Soup Recipe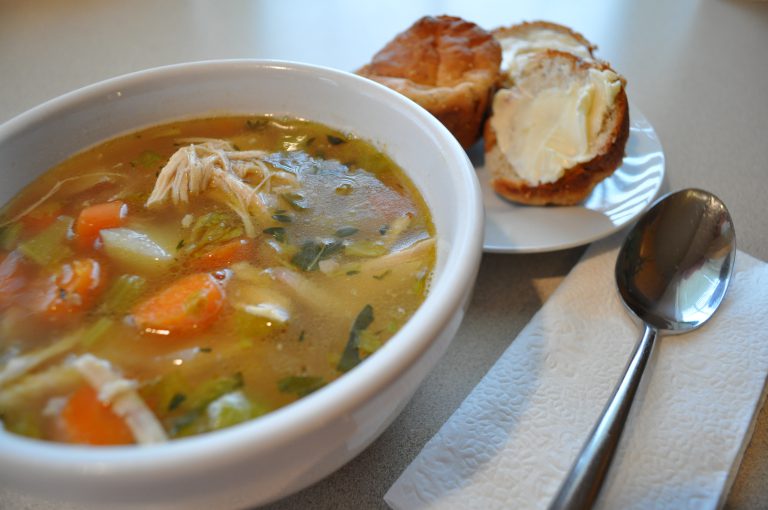 Quick & Easy Chicken and Vegetable Soup
This wonderfully healthy quick and easy chicken and vegetable soup recipe is one to keep. In no time at all you'll have a nourishing and satisfying meal to stave off those winter blues! And if you feel extra nifty, you can make your own chicken or vegetable stock in just a few steps.
Chicken stock
Next time you roast a chicken, save the carcass for stock. Better still, use raw bones, from a carcass you have jointed yourself. Break up the bones and put them in a large pan with a couple of peeled and roughly chopped carrots, an onion, a stick of celery, a few peppercorns, a little salt, a couple of sprigs each of thyme and parsley. If you don't have all of these extra ingredients, it doesn't matter. Add enough cold water to cover, bring to the boil, skim off the foam and leave to simmer for 3 hours. You can make it much faster in a pressure cooker. Leave to cool, strain the liquid into a bowl and chill, then remove the fat.
Vegetable stock
Put vegetable trimmings and peelings – onion, potato, carrot, leek, broccoli, tomato, whatever you have – plus a little salt, a few black peppercorns, a bay leaf and some dried herbs into a pot and cover with cold water. Bring to the boil and simmer for 45 minutes. Leave to cool, then strain.
Quick & Easy Chicken and Vegetable Soup
Quick & Easy Chicken & Vegetable Soup Recipe
Ingredients
500g skinless chicken breasts
3 carrots, chopped
4 celery, chopped
1 parsnip, chopped
1 leek, chopped
1 cup green beans, chopped
2 tablespoons parsley, chopped finely
1 garlic clove, crushed
8 cups (2L) chicken stock
salt & pepper to taste
Instructions
Bring water to boil and cut up all the vegetables into small cubes.
Cut the chicken into 1cm cubes.
Add the vegetables and garlic and stock and boil on high heat for 5 minutes, reduce heat and summer for 15 minutes.
Add chicken and bring to boil for 2 minutes, then reduce heat and simmer for 20 minutes or longer.
Soup is ready when all ingredients have sunk to the bottom!
https://mumslounge.com.au/lifestyle/health/quick-easy-chicken-vegetable-soup-recipe/
Leanne Sklavenitis has been extensively involved in the Fitness industry in not only Australia but also the USA for over 20 years as an Online Fitness Expert, Group Fitness instructor / Personal Trainer and Speaker running a successful online home based fitness business.
She has won the Aquatic and Recreation Victoria Group Exercise Instructor of the Year Award, the YMCA Group Fitness Instructor of the Year Award, has presented to 5000 delegates in Singapore, spoken to numerous corporate organisations and presented at conferences. She has also been interviewed in Fitness Instructor editorials and written fitness articles for magazines.
Leanne currently runs her own Online Health & Fitness Motivation Business where she provides the latest health and fitness motivation and helps to motivate fitness clients "online" no matter where they live. She has recently launched a new health and fitness membership site which contains all the information you need to know about creating the healthy lifestyle you deserve.
image courtesy of Pinterest