Go From Party Woe to Party WOW!


I love attending parties, they are the best.
You get to hang out with fun people, eat scrumptious food, sip on delicious drinks, then go home and nap. It is great being the guest, but does the thought of being a host send chills up your spine? I hear ya sista! To help lower your blood pressure I've compiled a list of the top 5 party woes I've encountered over the years and turned them into party wows!
PARTY WOE – YOU HATE PREPARING INVITATIONS AND FOLLOWING UP RSVP's
PARTY WOW – PUNCHBOWL'S ONLINE INVITES
Organising invitations requires time, effort and patience. An easy way to keep things stress free is to use an online invitation suite such as www.punchbowl.com which has some cool features including:
A range of free custom invitations and simple RSVP tracking.
A party planning feature where you can add a gift registry, organise monetary collections and more.
A To Do List section to help you stay organised.
A message board for guests to access and use.
After party features such as thank you cards and an after party message board.

Image via Punchbowl: www.punchbowl.com
PARTY WOE – YOU DON'T KNOW HOW MUCH FOOD AND DRINK TO BUY
PARTY WOW – CHICKABUG'S GUIDE TO HOW MUCH TO SERVE AT A PARTY
Can I get an hallelujah! This go-to guide helps many a party host keep their catering cool.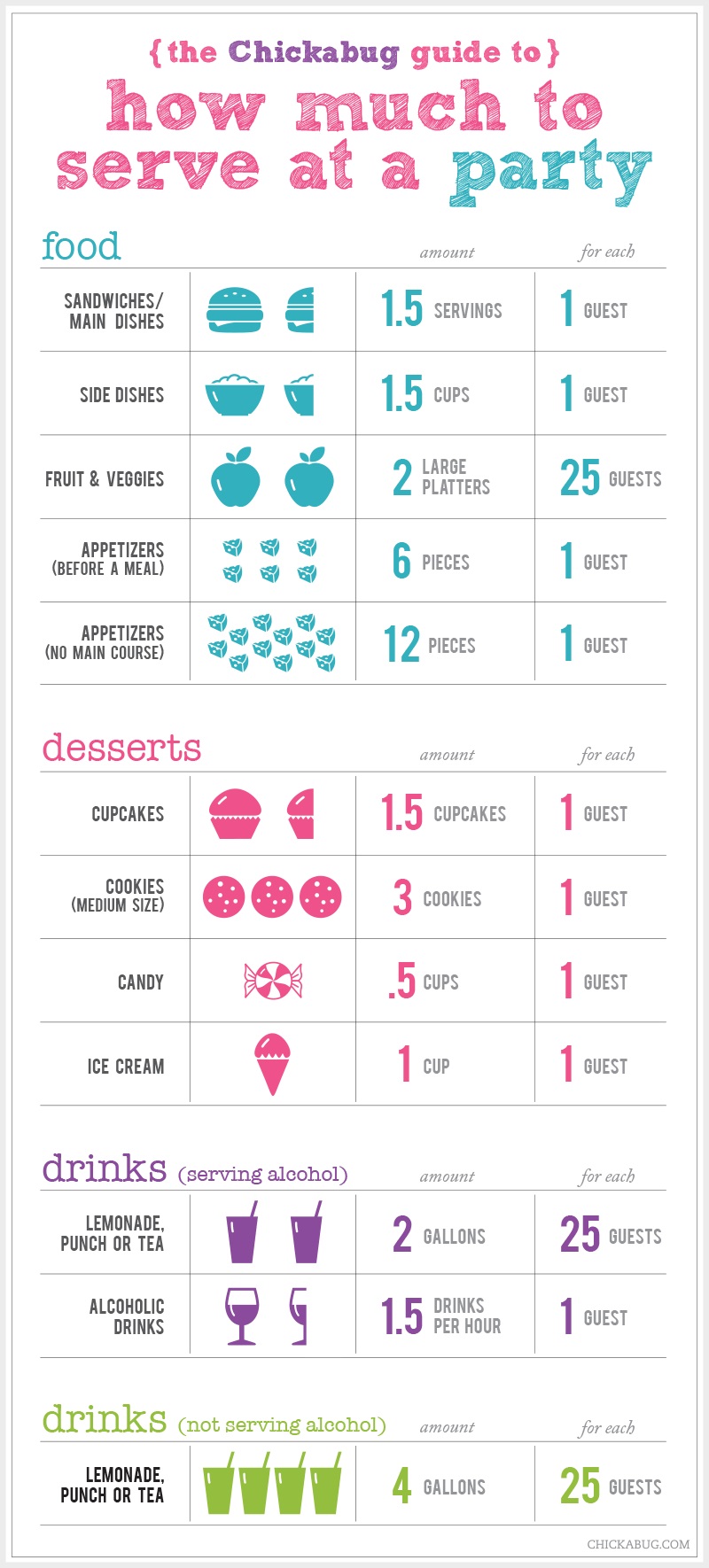 Image via Chickabug: http://www.chickabug.com/blog/2012/09/how-much-food-and-drinks-to-serve-at-a-party.html
PARTY WOE – YOU END UP SPENDING ALL YOUR TIME SERVING GUESTS FOOD AND DRINK
PARTY WOW – SELF-SERVE STATIONS
If you have the space, you can encourage people to help themselves by setting up different self-serve stations. This will free you up to schmooze with your guests and help avoid overcrowding in one area. Dining table? Turn it into a buffet. Kitchen countertop? Set up a drink station with some cups, ice and straws. Sunny day? Put some bowls of snacks on an outside table.

Images via Ruby Ju: http://rubyju.typepad.com
PARTY WOE – YOU ARE TIRED OF THE SAME OLD DECORATIONS
PARTY WOW – PARTY PRINTABLES
Printables are an eye catching way to dress up any party and are only limited by your imagination. You can use them to create a banner, drink bottle labels, cupcake toppers, favour labels, thank you cards and menu cards. You can find printables online at places such as Frog Prince Paperie or Printabelle.

Image via Event Head: www.eventhead.com.au, Printables by Frog Prince Paperie: www.frogprincepaperie
PARTY WOE – YOU DON'T KNOW HOW TO KEEP THE KIDS AMUSED
PARTY WOW – KIDS PARTY ZONE
We all know that kids have the world's shortest attention span. It's hard to keep them entertained for long periods of time without hearing "MUMMY! MUMMY! MUMMY!", so give them an area they can run riot in. Set up a small table covered in butcher paper and crayons, pull out your old game boards and hire toys that will keep them amused from places like your local toy library or http://hireatoy.com.au/toys-for-hire.php. Then politely excuse yourself and send the dads in.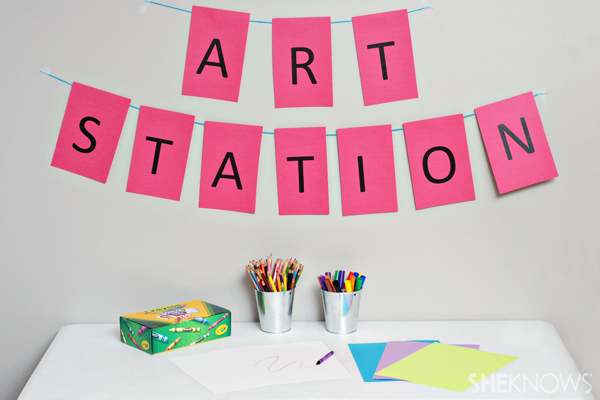 Image credit Amy Vowles via She Knows: http://www.sheknows.com
Do you have any party woes? Comment below and I can help you turn them into party wows!
Jade McKenzie is a haze of event plans, out of the box ideas, overflowing favourite bars, excel spreadsheets, "yay's!" and nappy changes. As the Chief Party Planner for party styling and hire service Event Head, she gets to indulge in some of the biggest loves of her life – tissue paper decorations and cake. Oh dear.
Website: www.eventhead.com.au