The Power of Paint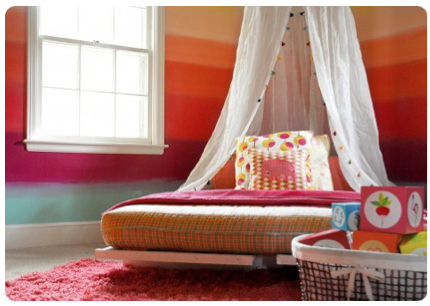 I utterly adore white, I spend hours with clients choosing just the perfect white, but white is nothing without a little colour. But the eternal questions are where to put colour & what colour? I like to keep walls white in general living spaces & go wild with colour in the bedrooms, especially with children's rooms, the sky is the limit.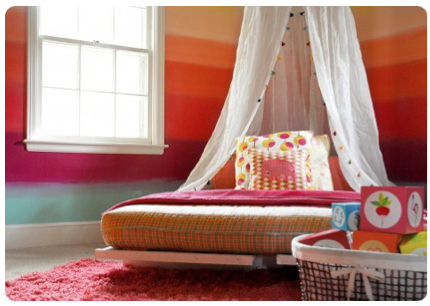 My youngest girl is desperate for this rainbow wall in her next bedroom; I like it because it is not absolutely perfect (I'm better at rough edges!).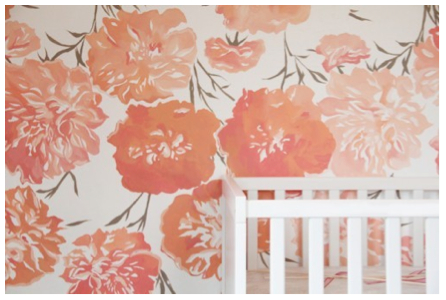 Love the soft overblown roses, another paint job that does not require a degree in Fine Art, I think it would be heavenly in soft pinks & lilacs.
After years of neutrals, colour is making a massive comeback, it is everywhere, cushions & rugs are one way to bring colour in but another is with furniture. Your local estate auction houses are a treasure-trove of pre-loved furniture looking for a second life, I have uncovered some of my favourite things in dirty warehouses. Earlier this year I found this boring chest of drab drawers, a light sand, several coats of paint & pretty knobs they are unrecognisable.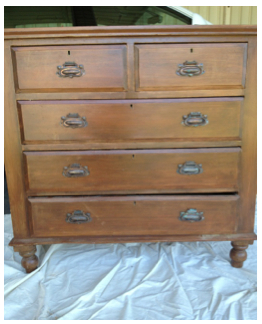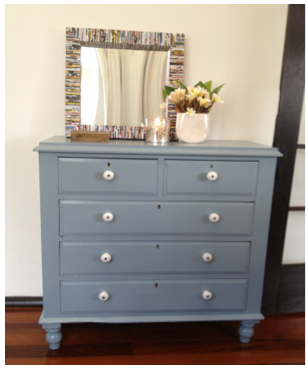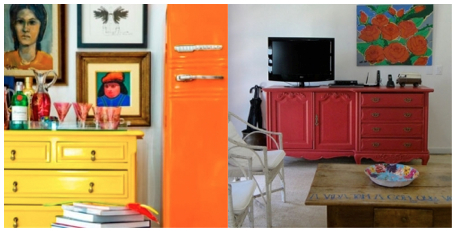 These pieces have been given a massive dose of VA-VA-Voom with adventurous paint choices. Whereas I would be hesitant to have a wall painted in sunshine yellow or a rosy red they are striking as furniture.
My absolute favourite way to fully experience the power of paint is to use it in its most practical guise, Im talking about the blackboard. I have always dedicated a wall in my kitchen to blackboard paint. Organising 4 children is hard work!! A scheduling nightmare so for a class 1 control freak like myself the blackboard is essential!! Not only is it great for schedules, its handy for shopping lists, reminders & somewhere for little artists to create.
Porters Paints have a beautiful range of chalkboard paints in a great range of colours, great!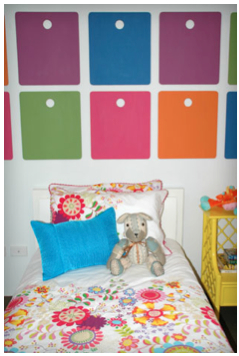 But for the traditionalist, you can't go past classic black.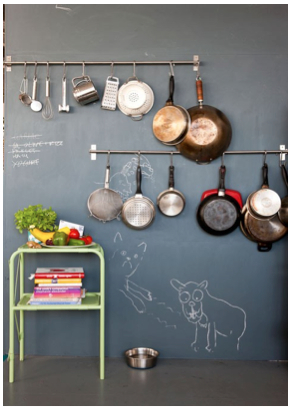 The whole kitchen can be a great place to throw a little paint around. Rather than rip out an old kitchen consider repainting, timber cabinetry can easily be re-painted after a little sanding & priming. This black kitchen is beautiful, especially with the touches of green.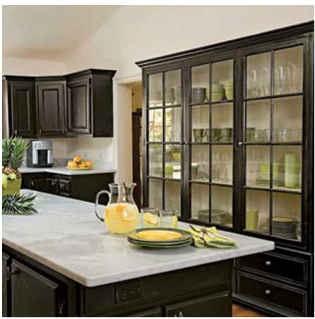 Or if you're feeling a little more adventurous, a dash of pink, divine!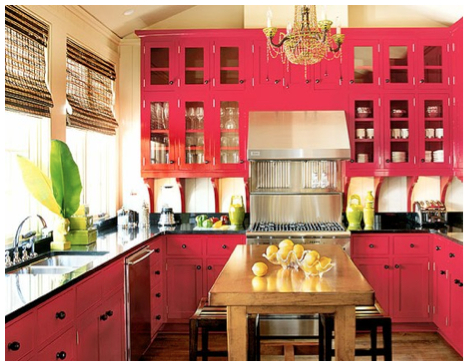 Remember when using colour, what can look awful on a paint chip can be beautiful on furniture. When painting a room always get a tester pot, especially if you are stepping out of your comfort zone, paint a large board & move it around the room so you can see how the colour changes at different times of the day. A colour that looks dark on a paint chip can fade away in a large sundrenched room just as it become enclosing & intense in a small space.
Colour is enchanting & expressive, life is too short to live in neutral, shift into some colour!
Jackie Roper
Full time Mum of 4,(5 if I count my husband, aka: the finance minister), part time colour & decor consultant, blogger & utterly addicted to all things homey. I believe that creating a beautiful home does not come from a catalogue but from the heart, I challenge my readers to step outside the showroom & explore & develop their own style with tips on how to & plenty of inspiration. Because we all need inspiration, everyday!