Could This be the Coolest Birthday Present EVER?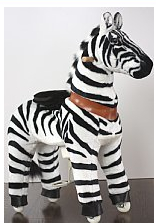 Well, I am pleased to report that after yesterday's sadness and tear-fest, today was an uplifting happy day.
Today my beautiful boy Foghorn turned four. Four! Already? I can remember the day that he made his peaceful but slow descent into the world like it was only yesterday. Foghorn's birth story was a beautiful (albeit painful) birth story with a hilarious twist. It sums him up perfectly. He is laid back with an infectious smile and a sense of humour that you can almost see when you look into his bright twinkling eyes.
The last week has been an exercise in self-control for me. It has been difficult. At time it has been torturous! From the moment I picked up his big parcel from the post office all I wanted was to see the look of excitement on his face when we handed it to him.
When I saw it, I just knew I had to have it. It isn't practical. He certainly didn't need it, but this year I wanted to make his birthday extra special.
Last year his birthday ended up being a non-event. We tried to make him feel special and loved, but the truth is that after the death of Hubbster's father only the day before, nobody's heart was capable of any kind of genuine celebration and Foghorn's birthday party was cancelled due to funeral preparations.
This year, I resolved I'd make it up, and I'd make it up so that I could put the ghost of birthday past to rest forever. I won't allow the mother-guilt to consume me every year at this time.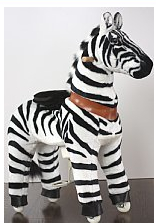 Ride on walking zebra from www.hipkids.com.au
And before I go any further I'd like to add that this isn't a sponsored post. I just wanted to share the toy that has given my kids a smile from ear to ear all day long…and I have a feeling it will for a long time to come.
But really you have to see the zebra that Foghorn has called Zigby in action to understand just how freakin cool this thing is!
Forgive my dodgy iPhone camera work..it was pre-caffeination!
With special thanks to everyone who left suggestions for making Foghorn's morning at kinder special, and messages of support on my Facebook page. You guys rock x