Family Friendly Ski Resorts
Family Friendly Ski Resorts
Winter Holiday Season is approaching and with the cold weather comes snow! If you have considered a family holiday to the snow, then now is the perfect time to book in for an adventure! Get out and enjoy the fresh mountain air, build a snowman and get plenty of exercise (which hopefully means the kids sleep well and you can relax!)
Perisher, NSW
Perisher is quite simply Australia's favourite snow holiday destination. Open, from early June until early October, there is never a dull moment from the time the season kicks off. Located in the picturesque Kosciuszko National Park in South Eastern NSW, the resort boasts an incredible 47 lifts accessing an immense 1,245 hectares of varied snow-covered terrain, suitable for all ages and abilities.
Perisher's world class Snowsports School offers skiing and snowboarding tuition for first timers' right up to experts, across a variety of different programs designed to suit individual needs and ages. Kids from as young as 6 weeks old, can be cared for at Perisher's Snowy Daycare, to allow parents the chance for their own quality time on the slopes, or, there's a range of on-snow Perisher Kids programs and activities for the little ones to enjoy and learn. Perisher boasts loads of fun options for a complete action packed snow holiday including: night skiing and snowboarding, snow-shoeing, cross-country skiing, First Tracks mornings, a snow-tubing park, groomer tours, fireworks nights, scenic chairlift rides, Skitube alpine railway, terrain parks, halfpipe, magnificent mountain vistas, cafes, bars, retail stores, fine dining and great a nightlife; all in the one place! What's great about Perisher is that it continues to introduce creative new products to provide value and flexibility for its guests.
To find out more and to check out their fantastic accommodation packages for the best snow holiday at Perisher go to: www.perisher.com.au
Selwyn Snowfields is renowned for it's relaxed, family friendly atmosphere. There is so much to do for the whole family, and importantly, at affordable prices. We aim to make skiing affordable for everyone and in 2012 there are some GREAT specials available that are even cheaper than last year.
In line with the incredibly popular Snow World Programs for under 7s, children between the ages of 7 and 15 will also have the opportunity to participate in half day and full day lesson options in 2012. The new half day and full day programs will run for all levels of ability in both skiing and snowboarding disciplines. The morning session runs at 9am for 3 hours. Those doing the full day program will break for lunch between 12pm and 1pm, with the afternoon session beginning at 1pm and finishing 3 hours later at 4pm. Morning and afternoon tea is provided.
Construction of stage 1 of the picnic and toboggan facilities has commenced which will comprise of a shelter containing electric BBQs, first aid equipment, vending machines and a telephone. Located adjacent to the toboggan and snow play area, the new facilities will not only benefit our hundreds of guests that make use of this part of the resort during winter time, but are also designed to provide much needed facilities to bush walkers and summer visitors.
Charlotte Pass Ski Resort, NSW
Charlotte Pass Ski Resort is situated in the heart of the NSW Snowy Mountains, with all accommodation and facilities ski-in ski-out. Completely snowbound at the top of Australia, Charlotte Pass is only accessible by Oversnow Transport. As Australia's highest resort, Charlotte Pass Ski Resort receives some of the most consistent snowfalls delivering the best quality natural snow.
Whether you're a beginner testing out your snow legs on Easy Starter, an intermediate carving up Kosi Coaster, an experienced skier looking for adventure on Sidewinder or a hardcore rider after an adrenalin rush at Guthrie's Chutes… The Pass has it all! With a broad range of accommodation options, reliable snow cover as well as exciting on and off snow features, Charlotte Pass Ski Resort offers a unique snow experience that is unlike any other.
The Kosciuszko Chalet Hotel was originally built in 1930, the Kosciuszko Chalet Hotel is one of the premier accommodation venues in the Snowy Mountains. Known as the 'grand old lady of the mountains', the Kosciuszko Chalet Hotel provides warm and friendly customer service whilst still retaining old world charm. From the moment you contact our experienced reservations staff, you can relax knowing we will assist you in planning all aspects of your holiday. A unique combination of history, service and some of the best ski-in ski-out facilities in Australia – staying at the Kosciuszko Chalet Hotel is an experience not to be missed
Thredbo, NSW
Thredbo is a buzzing snow resort in the NSW Snowy Mountains. The cool crisp waters of the Thredbo River meandering through the centre, the mountain one side with the village on the other, you don't have to go far to be enveloped in the magic of a winter holiday. With trails galore to explore and a cosy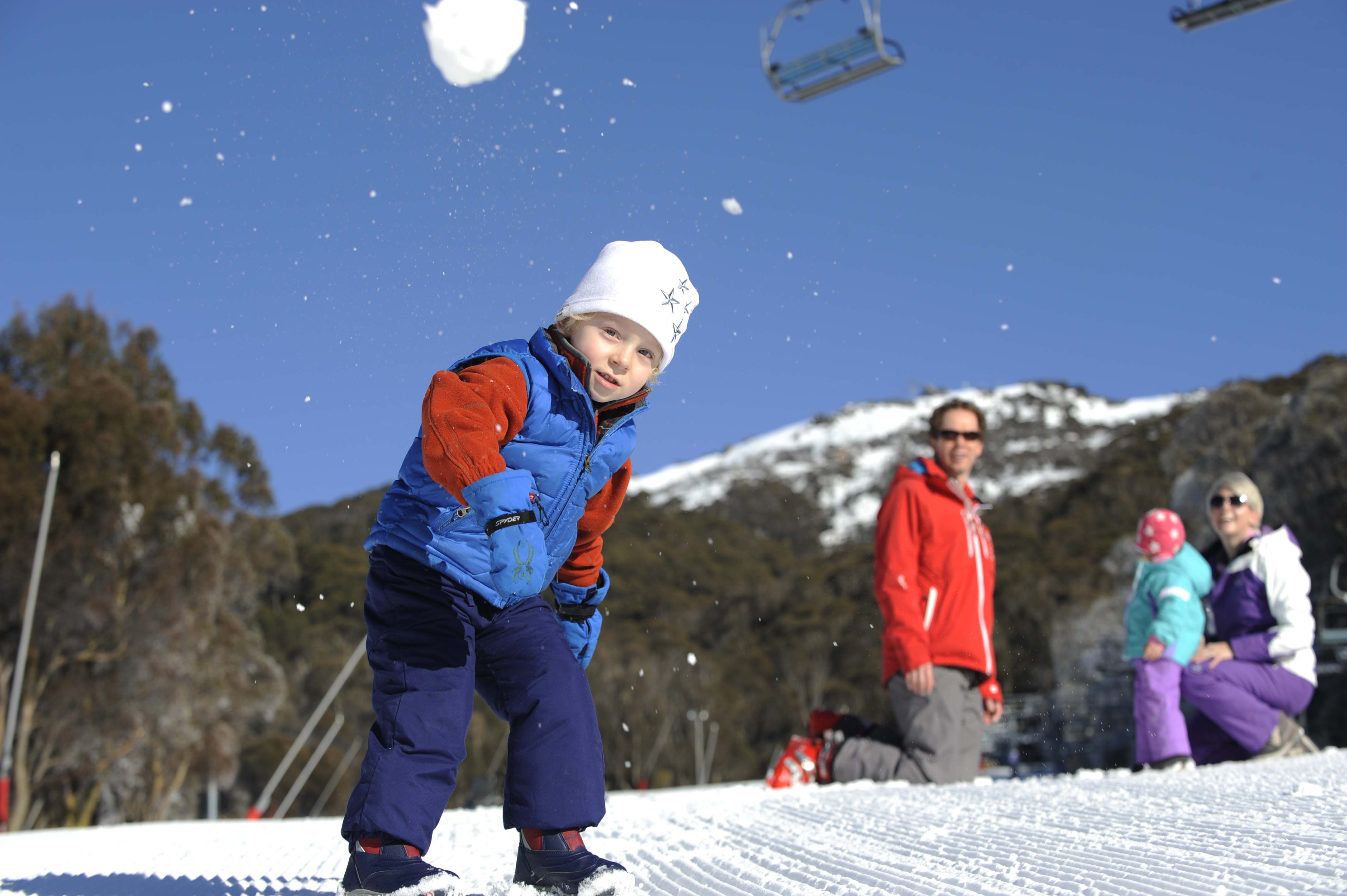 village to get to know, whether you are a skier, boarder, sightseer, snowballer or snowman builder there's a mountain of outdoor options right outside your door.
Thredbo's mountain is set up to suit every level of snow rider…from new-comers taking their first shaky slides on the purpose built Friday Flat beginners area to those ready to tackle the whole mountain or hey, you may just want to build the biggest snowman and create your very own snow angel.
Choose from lodge style rooms, hotels, on-snow chalets, luxurious apartments and self contained units all within a short walk or shuttle bus ride from the slopes.
There's a dedicated children's snow sports school, that is recognised as one of the best in alpine Australia – Thredboland caters for kids aged 3-6 years and Freeriders for 7-14 year olds. For the littlies who are not up to the slopes yet there are two childcare centres in resort
A must visit when in Thredbo is the Thredbo Leisure Centre, it has a heated pool, waterslide and a floating pool obstacle course plus a big sportshall for a ball sport of your choice.
There's are great mix of shops, eateries and conveniences right in the heart of town and some restaurants offer special kids dining deals.
In The MORE Seasons, you now get more value, more activities, more fun.
Get access to Thredbo Leisure Centre, tennis courts, pool and more for free.
Mt Hotham, VIC
Located in the heart of the Australian AlpsNational Park, Hotham Alpine Resort offers premium accommodation, a complete snowsports school and programs, equipment hire, a range of activities, over 20 restaurants and bars and everything you need to ensure you have a seamless holiday above the snowline. It will take approximately four and a half hours to drive to Hotham from Melbourne.
With a fantastic array of ski-in/ski-out accommodation from chalets, to fully self contained apartments and lodges at both Hotham and in the picturesque village of Dinner Plain 10km down the road, there is bound to be something to suit every snow holiday need.
The 2012 snow season opens on June 9 and closes on September 30. Children from as young as two years old can learn to ski at the Big D Kids Snowzone either in Kids Klub or Mighty Mites where they can also watch Harry the Snowdragon's live show twice a week on Wednesday and Saturday afternoons.
New to 2012 is a whole new range of multiday discounts. This year, ski or board all weekend for only $185 or hit the slopes any three consecutive days for just $90 per day. You'll get great savings when you ski or board for five days, paying only $85 per day. Kids can get a single day lift only pass for just $53 and kids under the age of 5 will ski free with a paying adult.
If Mum and Dad want to spend a day on the slopes without the kids, Hotham Daycare is licensed to cater for children between the ages of 3 months and 5 years. If you want a night out in one of Hotham's bars or restaurants, Alpine Babysitting offers a service where the child care comes to you, during the day or in the evening and gets the kids involved with all kinds of fun activities to keep them entertained.
Falls Creek Ski Resort, VIC

Every day there is any manner of attraction to occupy the avid snow-goer. Try riding the snow tubing park or bungy trampoline, snowshoeing back-country or sitting back with a latte whilst the kids watch the Pete the Snow Dragon stage show. At night the village comes alive with weekly night skiing, live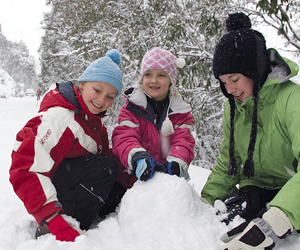 music, happy hours and a not to be missed night show and fireworks spectacular! Factor into this Australia's first and only dog sled trials under lights and you have a nightlife ideal for the whole family!
Out on the slopes there is over 450ha of skiable which makes it the largest resort in Victoria. Around a quarter of this is advanced terrain and the remainder suitable for beginners and intermediates. Falls Creek also features 4 terrain parks to cater to all skill levels from the beginning jibber to the elite park rider.
Another great snow experience is exploring the High Plains on snowshoes or cross country skis. Falls Creek prides itself on being Australia's home of cross country skiing and its network of world class trails span over 65km and are groomed and patrolled daily. These are completely FREE to access and offer a great opportunity for families to introduce themselves to the snow with a snow picnic at some incredible locations!
Located in Victoria's north east, the resort is a 2 hour drive from the regional city of Albury and 4 ½ hours drive from Melbourne. The resort is the most accessible by air in Australia with multiple daily flights into Albury combined with direct bus and private transfer services. The newest transfer option is a helicopter flight straight to the resort with the Forest Air Falls Creek Heli Transfer.
Written by Elise Easdown from
www.whatson4kidsparties.com.au