Family Date Night Ice Cream Pizza Recipe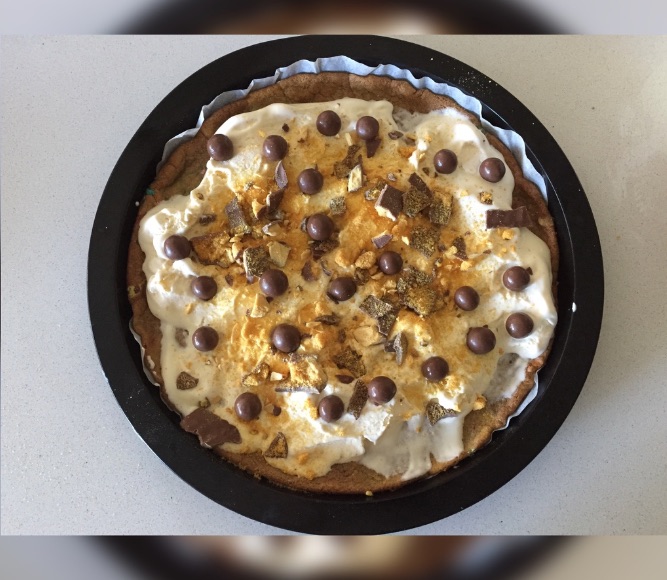 Family Date Night Ice Cream Pizza Recipe
I absolutely LOVE going out on a date night with hubby. It's a great excuse to spend some extra time on myself, do my hair and make-up, and maybe even buy myself something new to wear. It's important to me that we make the time to connect with one another as a couple, away from our responsibilities as mum and dad.
BUT, in this cold winter weather, I must admit I also love climbing into my PJ's early, making some yummy snacks, playing games and watching movies and having a family date night on the couch with my favourite people. The weekdays can be a blur of activity, so it's also important to slow down, and spend some quality time having fun, laughing and snuggling up on the weekends when we get the chance.
Last weekend, I came up with the most perfect family date night treat – the Ice Cream Pizza! It required just 4 ingredients although you could go crazy and use as many toppings as you like. My daughter is keen to try one with fruit toppings next family date night! I'm contemplating attempting an adult only version with some Bailey's and Tia Maria mixed in with the ice-cream, and sprinkled with a Cadbury Flake. Drool! Seriously – the possibilities are endless!
Ingredients
Cookie Dough 450g
Vanilla Ice Cream
Crunchie (broken into small pieces)
Maltesers
Method
Line a round pizza tray with baking paper.
Roll out the cookie dough to cover the base of the pizza tray.
Cook according to instructions. In our case this was just 8 minutes.
While the cookie base cools take the ice cream out of the freezer to allow it to soften.
Spread a generous amount of ice cream over the top of the cookie dough.
Add the broken Crunchie pieces and Maltesers.
Place into Freezer for at least 1 ½ hours 
Whilst we waited for the ice cream pizza to set in the freezer we settled down in front of the TV with the Xbox One S on.
The deal was that we would play games as a family for the 1 and ½ hours, and then switch the entertainment console over to Netflix to watch a movie while we munched on our frozen treat! This was a great way of distracting the kids from asking every 5 minutes when the ice cream would be ready, but when the 1 ½ of gaming time was up, it was also a great way to get them off the game promptly without any arguments! Ha!
Related: How My Screen Time Rules are Creating a More Peaceful Home PLUS FREE Printable
Although, between you and I, I am considering upping the gaming time to 2 hours on family date nights, as I definitely need a bit more practice at Plants v Zombies!
As you can probably imagine, as soon as I whipped this out of the freezer and cut it into individual pizza slices, the kids were only too willing to change the Xbox One S over to Netflix so we could watch Happy Gilmore. We are currently working through Adam Sandler's family friendly movie's (they think he is hilarious!)
The best thing about the pizza ice cream (besides the taste of course) is that if you have frozen it sufficiently, (and assuming they aren't going to sit and hold it for half an hour, eating it at a snail's pace) it is a pretty mess-free treat. The cookie won't drop crumbs, and the toppings won't slide off!
I'll let you know how the alcoholic versions turn out next time we have guests over and I have some human guinea pigs to test them out on!
Do you have family date nights? What do you do?