L'Oreal Paris Revitalift 14 Day Challenge Results – PLUS Get Your Free Sample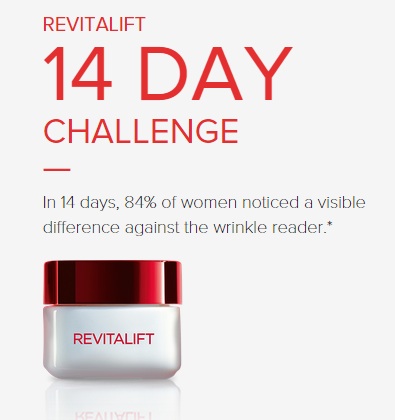 Sponsored post
So, this is the way it works right, tell me if I'm wrong.
We see this image above, we want to tear off the lid and dive headfirst into our own wrinkle-free future. Take me! I'm all yours!
But then, the healthy skepticism starts to creep in. Will it really do what it says? Is it really worth the money?
That's generally the way my thought process goes anyway. So when I was given the opportunity to try it for myself and take the Revitalift 14 day challenge, believe me when I say, I couldn't get that ruby lid off that milky pot of promise quick enough.
Note: If at this stage of the post you are thinking 'bloggers always get to trial stuff' – stay with me. I'll be sharing details on how you can sign up for your free sample so you can take the Revitalift 14 day challenge for yourself! I know! Awesome, right?
So… Back to the review…
Fortunately, whilst I have more fine lines around my eye area than I would like, I'm not sure that they can be classified as wrinkles just yet. But good skin care is just as much about prevention as it is about cure, isn't it?
So, I'm going to rate myself as a 1 on the wrinkle reader.
The cream itself has a lovely thick luxurious consistency which really left my dry winter skin feeling hydrated, soft and supple.
The scent is really pleasant too – fresh but not over powering.
Applying it each morning is easy and requires no extra effort or planning – which, lets face it, when you have three kids to get out the door and off to school is a major bonus.
This is almost unheard of, but I have actually done the school run without make-up these last few days, as my skin tone seems more even and in less need than usual of a foundation-fix-me-up.
Anyhoo… Onto the results…
But you may have to bear with me. Taking a photo of your own eyeball isn't the easiest thing to do! Ha!
I can definitely see an improvement in my fine lines – can you?
So… Fancy giving the Revitalift 14 Day Challenge a go?
Sign up here and receive your own sample of L'Oreal Revitalift!