Mirror, Mirror On the Wall, Who's the Most Domestically-Challenged of Them All?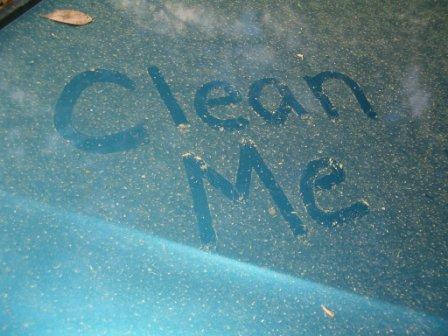 I'm sure that the 'housework-shy' amongst us will agree that, if there is one thing more terrifying than having a very important meeting with an inter-state visitor, it has to be having the meeting in your home!  Eeeek!  Not only does it involve butterfly inducing, butt-clenching nerves, but also a complete house cleansing ~ the likes of which your home hasn't seen since your mother-in-law last called to say she'd be 'calling in.'
In preparation for my VIP's arrival, I was absorbed in a most uncharacteristic cleaning frenzy.  Not only did I sweep, mop and vacuum the floors, (which involved dusting the old Dyson before I set it to work…never a good sign) scrub and shine the porcelain, and puff and plump the cushions…I also decided it was time to end the stalemate mirror saga which had long been underway with Hubbster and I.
Sometime ago, (I am too embarrassed to pin point an actual date), Hubbster set to work on the big mirror in our dining room with some cleaning product akin to hazardous waste.  Within moments my mildly- smeared antique mirror, dotted with child-sized finger prints and such like, was a smudged mess of horrendous proportions. 
"I've got some awesome stuff at work," Hubbster assured me.  "I'll sort it out tomorrow."
Well, as you might have guess, tomorrow never bloody came!             
Without pinpointing a date (of course,) let's just say it has been more than a few weeks, or eight.  Not that I am counting.  It has certainly been much longer than any proud housewife worth her salt, would have beared to withstand looking at her own smeared complexion day-in day-out.
Still, I lived in hope, not so much that my resolute stand would make him repent, but that someone other than me would undertake the horrible task of de-smudging my big old mirror.
But alas, digging my heels in, did not (once again) work.
At the eleventh hour, I suddenly remembered the horror that was the mirror. Having lived with the smears thus long I had become strangely accustomed to it that way.  But, with a sense of impending doom, I  realised that the time had come to back down.  Armed with some glass cleaner,a cloth, and a pout to rival Angelina Jolie, I set to work.
After some large circle-work and a little pressure it was looking fabulous.  Why had I been so loathe to clean it?  I stepped back to admire my work.  From this new vantage point it was clear that my task was far from over.  Rather than having removed the marks I had just managed to distribute them further afield.
This was when I realised I was going to have to put some real elbow grease into it.  I needed to get some real momentum behind my rubbing technique.
I inflicted some circle-motions on that sodding mirror that even Mr Miyagi would be proud of, but to no avail.
Hmmph.
Only one thing for it, in a case like this!
Whack up the radio, and clean to the tempo.
It was then, in the throws of some jiggy-tune or other, that I came to the disconcerting realisation that I could actually feel my buttocks wobbling as I danced around in a way that could only be likened to the Karate Kid on Red Bull.
I'm not sure if it was the fact that my bottom now wobbles that I found disturbing, or the notion that my arse was chuckling at the fact that I was attempting to clean.  We have been associates ever since I can remember, my bottom and I, so I guess it would know me better than most (although we are currently barely on speaking terms since Monday's unscheduled bout of gastro.)  But still, it seemed just a little unkind of it to be mocking me so outwardly.
Anyway…good news is that tomorrow, I have had the foresight to suggest that we take the children to a playcentre – We can let the children run amok and discuss our exciting plans further, (all of which will be revealed in due course) in the discomfort of sticky chairs and deafeningly loud sound levels.
Hey, anything has got to be better than another morning of housework!
Right?