My New Home Furnishing Plan (Part One) Plus GIVEAWAY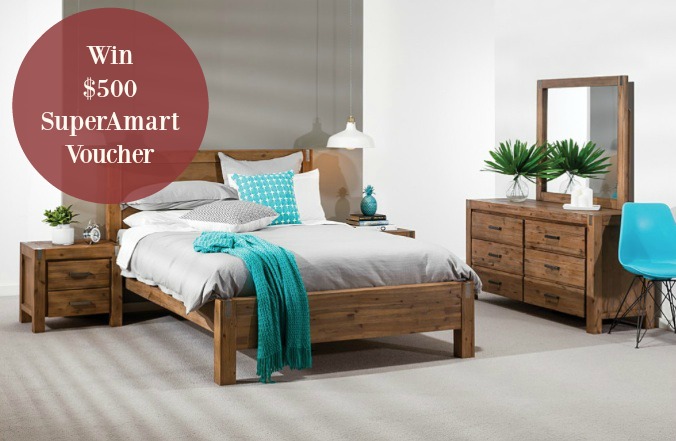 Sponsored post 
Remember how I was telling you that we have finally taken the plunge to build a new family home?
Well…it's happening people!
We have a slab!
*Does a crazy concrete-worshipping happy dance*
I never thought I could be so happy/excited over concrete – but, well I unashamedly am!
After nine long, stressful months of renovating our home and selling it, more meetings with the bank manager, council and the builder than I care to remember, and a seemingly endless barrage of paperwork to read and sign….(urgh! I'm exhausted just typing it) work has finally begun.
There is just something special about seeing the bare foundations of the spot where you and your family will start a new chapter in your lives together. It's like a blank canvas – just waiting for new memories to be played out on it. It did strike me though how much bigger this house will be compared to our old home – which of course is the idea! But, we've barely got enough furniture to fill half of it! (Yeah – as if I needed an excuse to start window shopping for furniture!)
I know what you are thinking. It's months and months away from being finished. I know. But I'd like to start to build up some mood boards for each room, and get an idea of costs – so that we can budget accordingly.
Since doing the iStyle colour course back in September, I have a much clearer vision in my mind of the colours and design features that appeal to me. I found that I am naturally drawn to more earthy colours that I believe will create that balance between warmth and calm I want my home to have.
This is my original mood board showing the colours that appealed to me most for the kitchen/dining/living room area – which makes up the heart of the home (and will be the first area you see when you enter through the front door). So essentially I'll be looking for furniture with a rustic feel (and possibly a grain-like texture) to it, that will complement the light fittings and kitchen cabinetry we have already chosen.
With such a large space to furnish, I will be on the look-out for bargains (of course) – but I don't want to scrimp on quality. With a young family of three, I need furniture that 1) is easy to keep clean and 2) is sturdy and withstand family life. To my mind, there is absolutely no point in buying something cheap only to have to replace it a few years down the track because it lacked quality and hasn't stood the test of time. That's false economy.
But with so many different furniture retailers around, knowing where to begin looking can be a bit overwhelming , and trust me, there is no way I could convince my husband to spend a whole day traipsing around furniture stores just in the hopes of something jumping out at us. I don't know about your partner, but my husband will happily let me make all of the home furnishing decisions, if it means he can avoid spending hours on end shopping. True story!
Serendipitously, (I just love that word!) an opportunity arose for me recently to do some work with Super Amart. I know! Could the timing have been any better?
Long-time readers may remember that I put together an article showcasing some easy ways to decorate your home for Spring last year – so Super Amart is a brand that I am already familiar with. Over the next 3 weeks I'll be taking you through my furniture planning process for our new home and showing you how the furniture they sell strikes the balance between quality and affordability, without scrimping on style. For starters, take a look at this…
This Bolt 11 piece package fits my vision perfectly!
Consider it added to the wish-list!
I especially love that I can begin the process of designing and furnishing my house online on the Super Amart website, without having to traipse through store after store on foot. Of course, there will come the time when I want to go into furniture stores to sit on the sofa before we buy it, or feel the texture of a rug or cushions – but at this stage in the planning process I can do everything I need from the comfort of my desk.
At least this way I can pre-plan exactly what to head for in-store. (If your partner is a reluctant shopper like my husband you'll understand just how important it is to have a strategy that a) achieves your goals and b) does it in the least amount of time possible. Ordering online of course would also mean I could sneak things that hubby simply wouldn't understand into the order – like why I need this chair in my study and in my life! Ha! 
 I think I'm going to enjoy this process! Don't forget to pop back next week to see how my plans are unfolding – and to make some plans of your own. That's right – Super Amart are inviting you to pick out some new furniture you'd like to add to your own home too with an awesome giveaway!
Giveaway
Whether you're decorating a new home, or you're keen to give your current home a bit of a makeover, Super Amart are giving Mums Lounge readers the opportunity to WIN a $500 gift voucher to spend in-store or online. What are you waiting for? Complete the entry form below to enter.
Disclosure: This post is sponsored by Super Amart. However, all thoughts and opinions expressed here are my own.