My New Home Furniture Plans (Part Two) Plus SuperAmart Giveaway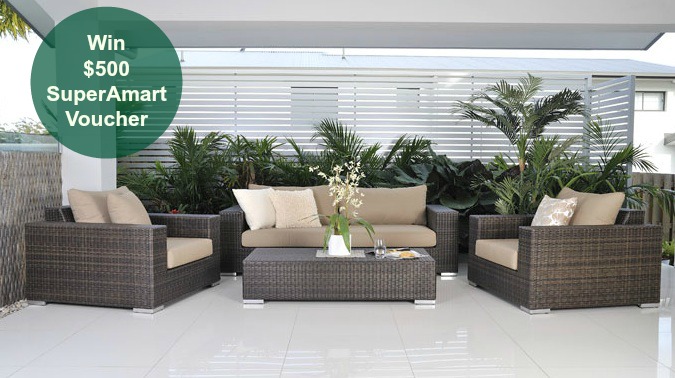 Sponsored post
New Home Furniture Plans (Part Two)
It's hard to believe that a little over a week ago I was jumping up and down with excitement that the builders had laid the slab for our new home.
So much seems to have been achieved in such a short space of time!
How exciting!?
We've actually been able to walk through and show the children where their bedrooms are, and the much anticipated toy room/family living area. (You know one that you can close the door on and guests can't see the mess! Yes! One of those!)
As far as furnishing the family living area goes there are a few key points that I need to keep in mind.
It needs a TV unit big enough to house the TV, DVD player, games consoles, games and DVD's…neatly!
The family computer will be in this room for the children to access the internet (under supervision). So a neat, and compact desk is also a must.
I am a giant book nerd! I just love them and hope to pass on my passion for reading to my children. So having our collection of children's picture and chapter books stored neatly in this room so that they are easily accessible is something that is very important to me.
A sofa that also doubles as a pull out bed would be ideal in this room, for when guests come to stay, or the children have sleepovers and/or movie nights.
With regards to colour schemes, this is the mood board I have created for this room.
Having this information all outlined from the start has made the furniture planning process a breeze.
I've been able to choose pieces from the SuperAmart website, and play around making a collage to see how they work together – all without leaving the comfort of my home! I use the picmonkey website for this. It's free, and it allows you to see instantly what works together and what doesn't. I highly recommend having a play around with this!
From left to right: Ikat Jar $89.95, Betty Fabric 3 Seater Sofa Bed $999.95, Casa rug $89, Lexi Chunky Woven Cushion (Natural) $29.95, Batch Cushion (Laguna) $24.95,  Gemma desk $59, Pebble Table Lamp $89.95, Lillian Orchid in Glass pot $29.95, Principal Office Chair $69.95, Summit – Large Staggered Bookcase $149, Landis Entertainment Unit $349.95 
Incredibly – I can furnish the whole room and still have change from $2,000!
That makes me VERY happy!
By tackling each room, one at a time, (taking into account the function of the room and my mood board/colour scheme), I think I'll have my furniture plans for the new house nailed and on budget, before the roof even goes on!
The next step will be visiting a SuperAmart store armed with my list of items – so I can see, touch, test, sit on, etc the furniture before we lock it all into the spreadsheet. Hubby doesn't realise it yet, (haha!) but I'm hoping to do this next week – so stay tuned to find out how my in-store experience compares to my online shopping experience.
Top Tip: I've signed up to the SuperAmart newsletter.  December and January are great for cashing in on sales and specials – and having the newsletter delivered straight to my inbox lets me stay up to date with the best deals! If you are in the market for some new furniture, you might want to consider doing the same.  You can pick up some wicked bargains that way!
Furnishing our new home doesn't seem quite so overwhelming as it did before, and I'm confident I can have it looking super stylish without blowing the budget! Winning!
Speaking of 'winning' – one of you lovely people also has the opportunity to win thanks to SuperAmart.
Giveaway
Whether you are decorating a new home, or keen to give your current home a bit of a makeover, SuperAmart are giving Mums Lounge reader the opportunity to WIN a $500 gift voucher to spend in their stores or online.
What are you waiting for?
To enter simply complete the entry form below.
Disclosure: This post is sponsored by SuperAmart.  However, as always, all thoughts and opinions expressed here are my own.
a Rafflecopter giveaway