Sonni Lou Becomes The Victim of Vicious Cyber-Bullying After Stock is Vandalised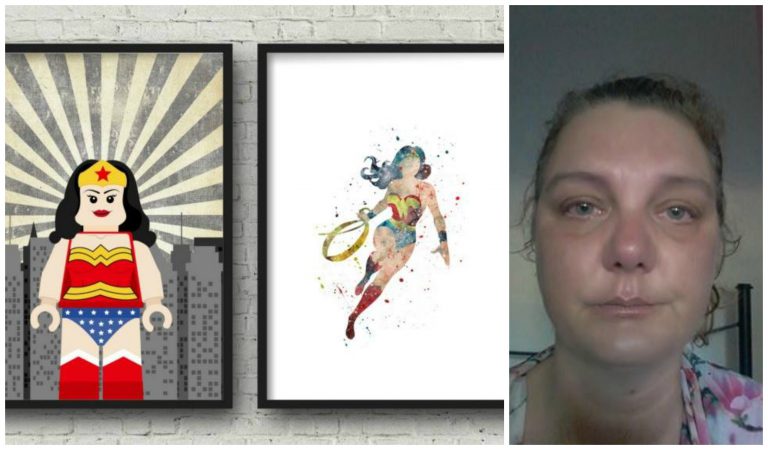 Australian Victim of Cyber-Bullying: Sonia Owner of Sonni Lou
It has been just 3 short months since R U OK Day – the social media initiative in which we are all reminded to reach out to friends and loved ones who may be struggling with life's challenges and offer them compassion and support by opening up a dialogue, asking if they are okay.
Social media means that compared to yester-years our communities have grown past the people that we call family, our neighbours and acquaintances we meet in the schoolyard. The people that we connect with on a daily basis has extended past the people that we greet in the street, and the friends that we enjoy play-dates and phone-calls with, to the people that we connect with online – whether or not we have met them IRL (in real life). Do we also have a responsibility towards these face-less people too?
I would argue unequivocally that the answer to this question is yes, as I'd dare say the majority of you would too. Sadly, though, the advent of social media has given rise to so called 'key-board warriors' and 'trolls,' who appear to rejoice in what they perceive to be a place of anonymity to lash out at undeserving and often vulnerable individuals.
The results of cyber-bullying can be devastating as seen in the countless cases of teen suicide, and the much publicised death of TV personality Charlotte Dawson due to suicide in February 2014, after a 10 year battle with depression and an onslaught of social media trolling.
As a community of social media users (raising the next generation of social media users) we have a responsibility to understand the power that our words have.
This week the owner of Australian business Sonni Lou has come under attack by those, seemingly unaware, or completely remiss about the power of their words. Sonia Fielding, became a victim of her own success after taking thousands of pre-Christmas orders for her $4 prints and struggling to keep up with the online demand.
After reaching out online to her followers, and dedicated customers, the majority of comments Sonni Lou received on her Facebook page were supportive. Sadly the same was not true of the emails she received behind the scenes.
In a tragic turn of events, on Monday 14th December 2015 things took a turn for the worst for Sonia when her orders were vandalized.
Her accompanying Facebook post read:
Vandals, water damage, lost stock….shattered. If your order has been affected you will receive an email from me today and please check your junk/spam folders too. I am so broken I can barely speak……
Sonia emailed the customers affected:
Over the weekend our storage facility was broken into and damaged by vandals.  
Unfortunately, due to the loss of over 2,000 prints, I am unable to fulfill your order.
Your payment has been refunded to your PayPal account and I'm so sorry for any inconvenience, especially this close to Christmas.
Once again her Facebook page was inundated with messages of love and support but behind the scenes, where no one was privy to the viciousness, Sonia came under attack via her email. These are just a few of the comments Sonia has received:
This is bullshit maybe the lady running this page will think about it before having another sale if can't fulfill peoples orders.
What a pathetic way to run a business, you should be ashamed of yourself.
I'm 8 months pregnant and you're telling me I have to go to the shops to buy something.  I'll personally blame you if something happens to my baby.  
A bit late telling me now isn't it, why not tell me earlier when I could have made other arrangements (she was advised within 3 hours of the flood being discovered).
So you lost some prints, big deal, that's what insurance is for.  You probably arranged it yourself.
Instead of whinging about your problems on Facebook, get off your arse and fix them
Maybe with all the money you've made in your sale you could spend it on getting staff so customers aren't waiting 2 weeks for their orders
My son is autistic and loves the Hulk and you've just ruined our Christmas (ruining Christmas is a repetitive response, there's been countless emails like that)
I ordered 6 prints and you can only deliver 5, that's not acceptable.  I paid for 6 and want 6.  You will supply this before Christmas or face the consequences
I don't care about your mental problems, but if you're so broken just top yourself and stop talking about it
First time seeing my kid in 6 years and now I gotta turn up empty handed because of your fuck up.  Not happening.  My wife's ordered stuff from you before and came to your house so I know where you live (then cites her street name and suburb)
Next time you make a video, don't.  Your fucking ugly.
In an emotional and heartbreaking video yesterday Sonia exaplained to her community why she was closing her business.
Posted by Sonni Lou on Monday, December 14, 2015
It's almost unfathomable that after reaching out so candidly about her struggles and mental health, Sonia had later cause to write:
Since when did things become more important than people?
When did having a print for your child's room become more important than somebody's mental health and wellbeing?
It's almost unfathomable!
If this is the way these people think it is okay to treat another human being, then maybe giving their child a print at Christmas is the least of their worries. Perhaps, instead of counting gifts, they could think about modeling compassion, love, and understanding. Teaching our children through our own actions, to be respectful and thoughtful of others, is a far greater gift than anything you can wrap beneath the Christmas tree!
Please comment below with your messages of support for Sonia – words have power. Let's offer her some of our best ones to get her through this difficult time.
A Gofund Me page has been set up by a close friend of Sonia's.