We've Just Found Your New MUST HAVE Handbag – and its Freakin' GENIUS!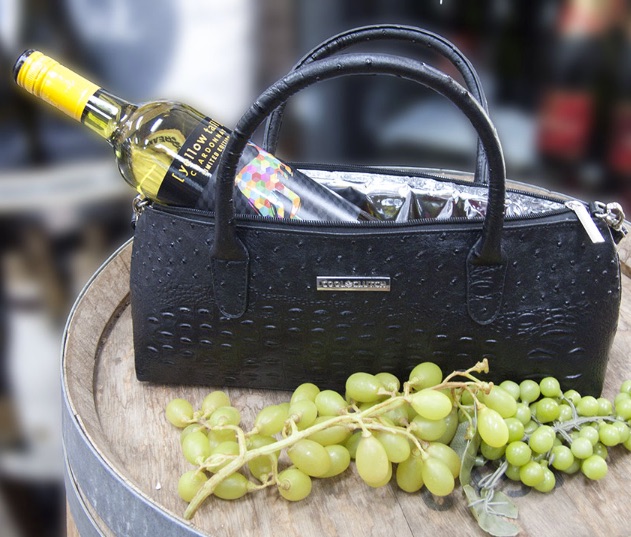 We've Just Found Your New MUST HAVE Handbag – and its Freakin' GENIUS!
Can you imagine waking one morning with a fully-formed idea of something you know you NEED to make, and that you have a pretty good idea that other people will love too? Well, that is exactly what Suzanne Carroll from Cool Clutch did, and we have to say the idea is so brilliant we're not sure why nobody has thought of it before!
As Suzanne herself explains;
"I don't like to miss an opportunity to have a glass of wine with my friends and family. There is nothing better than getting together with my girlfriends for a glass of bubbles and a giggle. It's good for the soul and cheaper than therapy.
I wanted to carry a cooler bag that I liked carrying but no matter how much I googled I could not find anything anywhere in the world I liked, anything I felt was designed for me.
So I decided that I would design a range of handbags that could also keep my wine cool. I designed our first range of 3 styles and after many months of R&D with friends and family I finally got to take my handbags, each named after my family and friends, to our local market to get face to face with our customers."
"I must admit this was an eye opener. There were so many women, just in my local area, that have been waiting, without even knowing it, for a handbag that keeps stuff cool! I have even been referred to as a "Goddess of Wine Lovers"! I think that is going a little too far but it has been an interesting journey in the preceding months as we have expanded the range to 12 styles and over 70 variations as a direct result of talking to women everywhere."
Whilst Suzanne's original concept sprang from the desire to transport her favourite bottle of wine or bubbles in style to parties and picnic's she soon discovered that her bags had a whole host of practical uses. The more Suzanne has chatted with her customers the more ideas she's had to extend the range, and include bags of different shapes, sizes and designs.
Here are just a few of the ways women are using their Cool Clutch handbags:
Tara recently purchased several of our Cool Totes because she hated going to a party with her favourite wine to find it empty when she went to get another glass.
Ashleigh is a new mum and she takes her babies bottle of breast milk where-ever she goes, avoiding any possible embarrassment, and it is still warm enough for baby to take.
Margaret loves her Audrey Cool Clutch Cool Tote so she can secretly and stylishly take her diet meal to work – it is still frozen at lunchtime.
Recently a bride (name unknown) told us how fantastic it was during her special day (a hot day) that she could keep her make-up from melting in the Pearl Cool Clutch.
Dayna told us how she loved to have a snack during the day and her yoghurt was still cool and edible after 8 hours!
Pam who didn't have a fridge at work and is now saving money (and losing weight) as she takes her lunch and doesn't have to get takeaway every day.
Anne who is having a lovely new kitchen but the fridge is currently in the garage. Having her drink cool by her side in a Cool Clutch, made her movie watching so much more enjoyable not having to keep pausing it, to fill her glass.
Debbie is a grandmother of 2 beautiful pre-kinder aged girls and she was able to fill her Marie Cool Clutch with children's yoghurts and drinks when they went off to the Zoo. Having only 1 handbag for everything meant she had a hand for each child to hold.
Sam's husband is diabetic and she carries his injections in the cooler pocket of her Cool Clutch Cool Tote.
Kylie carries an EpiPen in case her son comes in contact with peanuts. It is recommended that Epinephrine injections are kept in an insulated wallet and the removable pocket of the Cool Clutch Cool Tote is perfect for that.
Sarah takes a Cool Clutch Large Cool Tote to the beach to keep everything cool. The sunscreen's active ingredients stays cool and effective. Their food keeps cool so at lunchtime they can enjoy a nice picnic.
I was recently fortunate enough to review three Cool Clutch handbags myself (and let's just say I have already purchased three more as gifts). I LOVE them! You can read my full review and see which gorgeous bags I chose here.
Giveaway
Well, it just so happens that I'm not the only lucky one around here because Cool Clutch want to giveaway 2 handbags! One to one lucky winner, and one to a friend of their choice!
For your chance to win, all you need to do is head to the Cool Clutch website and have a really good look through their range. Then come back here and complete the entry form below.
a Rafflecopter giveaway