What I Wish I'd Known During My Third Pregnancy: Perinatal Anxiety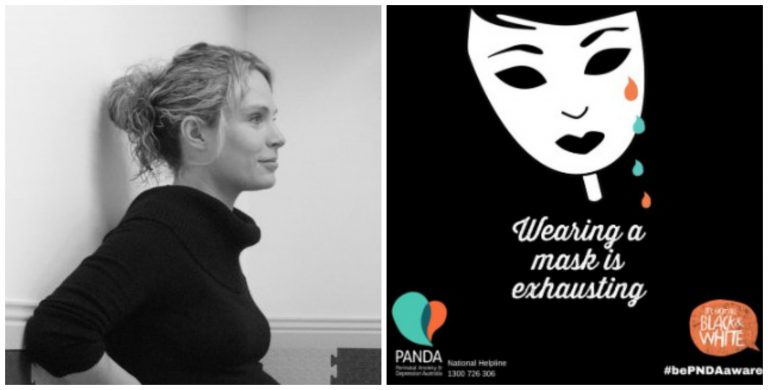 This week (15th-21st November) is PNDA (Perinatal Anxiety and Depression Australia) Awareness week.
It's an event that I particularly feel passionate about promoting and helping to raise awareness.
Perinatal Anxiety: My Story
This photograph was taken at my son's first birthday. It was a day spent with family and friends celebrating our second born child.
What you can't see is that I am four months pregnant with our third child, (Surprise!) and already feeling completely and utterly overwhelmed with the prospect of caring for three children aged three and under.
I worry that I can't give them all the attention they'll need.
I feel guilty that I am not able to enjoy this pregnancy as much as the previous two, because well…Im exhausted from running around after two toddlers all day.
I lay awake at night worrying about the financial implications another child will have on us.
I'm so tired…and it all just seems so hard and overwhelming.
I worry that I'm making up this parenting thing as I go along. Am I making the right choices? Am I a good mum?
This photo was taken a few months later at my eldest son's third birthday.
And guess what – 34 weeks pregnant and I'm still worrying about EVERYTHING. I feel like I am just surviving day to day.
I don't realise it yet – because I think that I've been through two pregnancies without any problems – and post-natal depression and anxiety (whatever that is) is only something you have to worry about after birth – but I have perinatal anxiety.
I don't talk to anyone about the way I feel because – who'd understand? Surely other women don't feel this way. I'm supposed to be joyful about the impending birth.  Everyone else seems to cope fine – what's wrong with me?  I feel isolated and alone – and the more I keep the fear and worries to myself – and the more I feed them by playing out the what-if's in my mind – the more they grow.
But I don't realise that I have anxiety.  I don't recognise that the negative thoughts, and feelings, and the tightness in my chest are indicative of something more than just tiredness.
In fact I don't know that this isn't a normal state to be in, and that I need to seek some medical help until close to my daughter's first birthday when I almost pass-out behind the wheel of the car after dropping my son at kinder due to a heart attack.
I can barely breathe. My chest hurts. The road ahead swims in front of me. I pull over and manage to call an ambulance before the darkness envelops me. "I'm having a heart attack!"
"You're having an anxiety attack," the ambulance driver explains gently to me, after ruling out anything more sinister.
"But the pain…in my chest…I can't breathe.  There is something seriously wrong with me!"
I can't accept that the stress and anxiety that happens in my head can manifest such physical symptoms in my body.
I am convinced that I am either going to die or go insane.
Read 'Getting My Happy On – Life After Panic Attacks
Fast forward to today – and things are a whole different story.
With help from a doctor and a psychologist I was able to move past what in hindsight feels like a very grey period in my life.
Stressful life events can still sometimes trigger feelings of anxiety – but I now know how to recognise them at the early stages and take steps to counter it, like spending time with friends, exercising, relaxing – be kinder to myself and accepting that I can't control all of the outcomes in my life.
But – the thing that helped me the most – particularly in the early days – was women just like me – who opened up and told me their stories of anxiety and depression and made me realise that I wasn't alone and I wasn't losing my mind.
I hope that by sharing my story – I may have helped someone too.
Pregnancy and early parenthood can be both an exciting and challenging time.  Each year for over 100,000 Australian expecting and new parents, the perinatal period is clouded with anxiety and/or depression.  This PNDA awareness week show your support for parents by posting a black and white photo to Facebook or Instagram to show it's' Not all Black and White.'  help break the stigma around perinatal mental health.   #bePNDAaware #itsnotallBandW
For support please call PANDA's National Helpline on 1300 726 306 Mon-Fri 10-5pm AEST or visit www.panda.org.au