A Mummy Blogger Accidentally Wore A Pram Accessory As A Skirt And We're Here For it!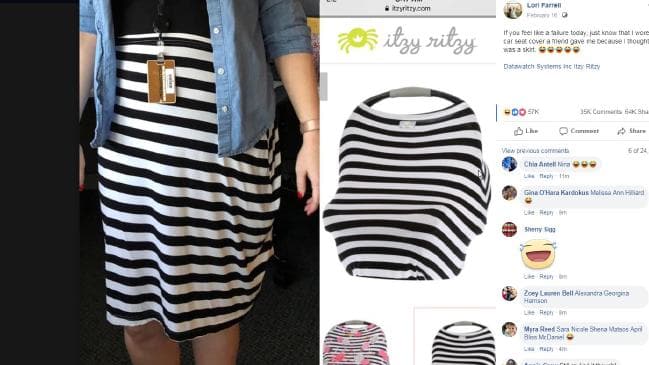 A Mummy Blogger Accidentally Wore A Pram Accessory As A Skirt And We're Here For it!
As busy mums we are the ultimate multitaskers! I mean have you seen the way we can get a brood of kids dressed, fed and out the door by 8am? Super powers I tell you! Sure at times we may look worse for wear but generally we have our shit together! Except when we don't.
Take the story of mummy blogger Lori Farrell for example, who recently shared her hilarious wardrobe malfunction in a Facebook post that has now gone viral.
"If you feel like a failure today, just know that I wore a car seat cover a friend gave me because I thought it was a skirt," she posted alongside a photo of her wearing a baby CAR SEAT cover as a SKIRT! Yep. You heard that right!
But how did she not know what it was? Easy. She was gifted the item by a friend who donated a bag of baby clothes to her in preparation for the birth of her baby girl.
"A friend of mine had given me a huge lot of baby stuff, from clothes to baby carriers to a rocker and blankets, and when I pulled it out I was not sure what it was," she said
"I debated it but washed it anyway then decided because of the way it pulled on the side it must be a maternity skirt."
Farrell knew the 'skirt' felt kinda weird on but decided to go ahead and wear it anyway thinking it was just the style that made it pull to one side.
"When I got to work I Googled the brand and realised not only do they not sell clothing but it was a car seat cover."
Hahahaha!! Seriously- how cool does the car seat cover look as a skirt anyway? The Chicago-based brand, Itzy Ritzy, discovered the photo and thought the whole thing was hilarious! They even shared it to their Instagram page with the caption: "Tag a friend this would totally happen to 🙈 Thanks for the best thing we've seen maybe ever, @lcrab1! #momboss"
The mummy blogger's followers were equally as impressed and took to Facebook to leave some very supportive comments.
"I mean … it looks pretty good as a skirt too, double usage! Bloody kids get everything!" one wrote.
"Might wear Sophia's next week," another said about her daughter's car seat cover.
Car seat cover or not we think this mummy is rocking her new look and besides, we think she's the ultimate trend setter by showing women how they can look good AND keep their baby safe from the sun!
Images: Facebook and Instagram