A School Performs a Heartwarming Flashmob Farewell Routine to a Popular Teacher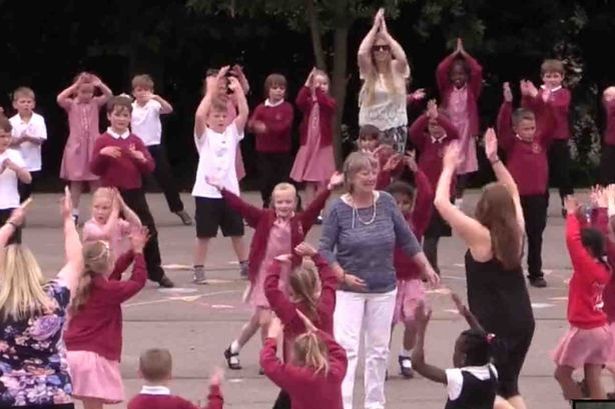 How do you say thank you to a teacher that has made an impact on your life? We never forget the teacher that took time to invest in us and often as adults we reflect on the positive impact that teacher had on us when we were younger.
Mrs Gabica was one such teach who had made a big impact on the students she had taught in her 25 years of employment at St Julian's Primary School in Newport, Wales. When Mrs Gabica announced her retirement, staff and pupils put a plan together on how to thank the well-loved teacher for her dedication to the school.
Rather than giving Mrs Gabica flowers and chocolates, the staff and children decided to leave her with a memory and decided to flashmob Mrs Gabica with a dance routine to The Lion King's 'He Lives In You'.
It took three weeks for the staff and pupils to practice the routine without Mrs Gabica's knowledge.
They waited until Mrs Gabica's final break duty to perform the routine. Mrs Gabica thought it was a normal break until the teachers and school children took their places, with ipods in hand and speakers on so they could show Mrs Gabica their 'thank you' routine.
The Headmaster of St Julian's Mr David Rees, reportedly told Mirror Online, "The school is so proud of all its pupils and is thrilled with the flash mob to acknowledge Mrs Gabica's 25 years of service to the school."
Wales Online was the first to originally report on the story and the video has gone viral, touching those that watch the footage and those adults who were once taught by Margaret Gabica.
Acting deputy headteacher, Luke Mansfield said "The Flash Mob was a wonderful way to celebrate Mrs Gabica's last day at the school and is a real testament to the hard-working staff and pupils at St. Julian's Primary."
"We are so proud of everyone who was involved."
Did you have a favourite teacher at school? Were you ever able to say thank you to them for the impact they made on your life?