Birds Eye L'il Fishies Review: Here's What Our Mums Had to Say PLUS GIVEAWAY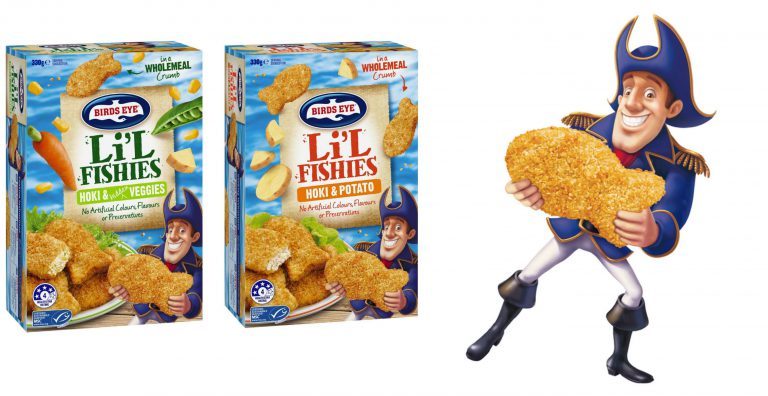 Birds Eye reveals Li'l Fishies a new delicious fish shaped snack for kids – here's what our Mum's had to say…
As a busy mother of three, I am always on the lookout for convenient and nutritious snacks to feed my children – whether its pre-footy training, a weekend lunch or an afternoon play date with friends – every snack/mealtime is an opportunity to give them the nutrients that their little bodies need to grow, play and learn.
On the whole, they are all good eaters – but that doesn't mean that at any given time, one of them won't be going through one of those 'phases' when they apparently stop liking a particular food overnight.
The latest of these 'phases' in my house, has come in the form of my youngest, 5 year old Bubble, declaring that she hates fish and food that comes out of the sea! This is the child that only eight months ago threw a particularly dramatic wobbler at the supermarket because I wouldn't buy her a tub of garlic Mussels, and loves nothing better than scoffing prawns with her dad! So I knew that when I dished up a plate of the new Birds Eye Li'l Fishes that we'd been sent to review, her newly acquired dislike of fish would disappear quicker than an ice cube on an Aussie summer day!
Really? What kid could resist this fun fish-shaped offering?
The new Birds Eye Li'l Fishes are made from succulent Hoki (to my mind, the perfect mild-flavoured fish for those not especially keen on fish as a rule…and yes, I am speaking from personal experience). They come in two flavours – Hoki and potato and Hoki and vegetable – and parents of fussy eaters will be relieved to know that there are no tell tail chunks of veg. They really will be none the wiser! What's more, they are coated in wholemeal crumbs (not that they'll have a clue about that either), with no artificial colours, flavours or preservatives and has been given a 4 star health rating.
We first tried them on the weekend after my eldest son's footy game. Everyone was cold and hungry and in need of a quick, hot pick-me-up after standing on a frosty field all morning! I cooked them in the oven for 20 minutes – so by the time my son was showered and changed (and had been sent back to the bathroom to pick up his dirty footy kit and deposit it in the laundry basket) they were ready!
Needless to say, the next 10 minutes were the most peaceful of the whole weekend – with all 3 kids plus one of their friends, tucking into their Lil Fishies and corn cobs – even Miss I-hate-fish-but-do-you-have-any-more-of-these-lil-fishies-left loved them (like I always knew she would!)
Mums Lounge Community Reviewers
We gave a group of parents from the Mums Lounge community the opportunity to try the Birds Eye Li'l Fishies at home with their family, and to share their thoughts and experiences with us.
Here is what you thought of the Birds Eye Li'l Fishies…
Very well made for kids, the fact it's in the shape of a fish, should be more enticing for them. Kids were excited to get it out of the box and put on oven tray. Tastes nice for frozen fish and the fact it had hidden veggies a bonus! Thank you for letting us try it.
Nikolett, Brighton Le Sands, NSW
My kids loved them.
I'll definitely be buying them.
I told the kids after I put them in the oven that I had some new fish for them to try, my daughter, 6, ran to the oven to peer in. "Oh they're little fishes!!!"
100% correct baby-girl.
They were gone in under ten minutes and neither kid questioned if there was anything else but fish in them.
Cassandra, Craigieburn, VIC
My kids and husband loved them and they are all very picky eaters
Lois, Unanderra, NSW
I thought these would be a great way to get Master 3 to eat more fish – thankfully veggies aren't my issue, but he doesn't really like anything crumbed, so this didn't go to plan. He did eat them, but it was a challenge. Miss 1, however, gobbled them down.
Would I buy the product? Maybe, but not for a little while.
Taryn, Woolooware, NSW
My children enjoyed them. Also let my friends fussy kids try them (3yo and 18mo) they also loved them. Yes I would buy
Lisa, Adelaide, SA
My daughter was very excited to try them. She really liked them, she had them for lunch just on their own. I had mine with salad and my dad popped in and he thought they were delicious too. Thank you for the chance to try them. We will be buying them again.
Kristy, Crib Point, VIC
My hubby and I didn't think much about them but I would buy them again for kids as they enjoyed them. Kids loved making the Li'l Fishies swim.
Frances, Melbourne, VIC
We loved the Hoki and "hidden" veggies Li'l Fishies! My kids only eat 2 vegetables, so getting extra veggies in these was awesome and they tasted really yummy!
Amanda, South Tamworth, NSW
One of my kids refuses to eat any vegetables but she loved L'il Fishies with veggies in, this has been a breakthrough for me! My other two loved them too!
Kerry, Melbourne, VIC
My daughter loved them especially the hoki & potato one. They tasted delicious, quick to cook and had a satisfied toddler.
Kaleena, Myrtleford, VIC
My kids liked them. They are quick and easy to cook and we would buy this product again.
Tia, Charmhaven, NSW
They are a great way to get you children to eat fish and veggies my daughter refuses to eat veggies but will eat little fishies.
Jacinta, Hobart, TAS
Look good, easy to cook and tasted good.
My 15 year old, my husband and I all liked them. My 14 year old does not like fish so wouldn't try them and my four year old liked the look of them and tried them but was not overly keen.   Great for a quick convenient meal.
Kylie, Launceston, TAS
What a generous product review – we have Li'l Fishies enough to keep going for a while. Although I thought they tasted a little bland and soft – my fussy three year old gobbled them done – so objective achieved in my book. Would definitely purchase in the future for the kids when us parents are eating something that they don't like, or for an easy, healthy lunchtime meal
Rebecca, Canberra, ACT
Birds Eye Li'l Fishies are the FIRST fish shaped snack in the frozen fish market!
Available now in Woolworths, Coles & Independent supermarkets nationally. RRP $5.60 for 330g serving. For more information on Birds Eye's full product range please visit www.birdseye.com.au
Giveaway
Birds Eye are giving 5 lucky Mum's the chance to win a Li'l Fishies product pack (3 Hoki & Veg and 3 x Hoki & Potato) valued at $30 each!