The Most Beautiful Carpool Karaoke You Will Ever See!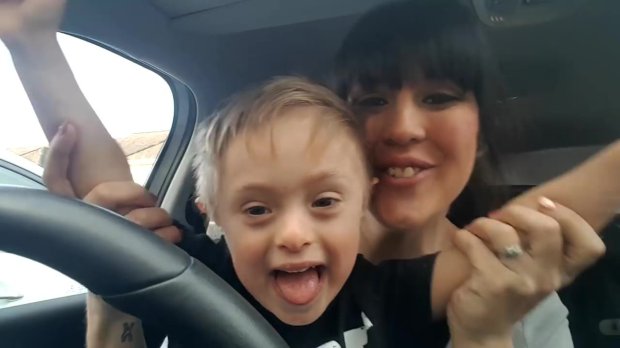 The Most Beautiful Carpool Karaoke You Will Ever See!
Carpool karaoke has becomes synonymous with James Corden and his celebrity singing passengers but here's a version that will make you bawl!
A lip sync video in support of World Down Syndrome Day has been released on Youtube featuring 50 mums and their children singing along to Christina Perri's multi-platinum track "A Thousand Years."
The mums, who are all part of Facebook group Designer Genes, got together to show the world another side to their kids and let people know just how ordinary and fun life with Down Syndrome can be. The video titled "Wouldn't change a thing" was inspired by Singing Hands, a YouTube channel that encourages people to learn the language set to music as a way to help their children and to have fun at the same time. The videos were performed using Makaton, a form of sign language that is designed for people with speech problems, particularly Down's Syndrome sufferers.
This is the most beautiful Carpool Karaoke. It made me cry. #wouldntchangeathing x https://t.co/56CwvSXY87

— James Corden (@JKCorden) March 16, 2018

The feedback to the video has been overwhelmingly positive with even James Corden tweeting his support! It's now been viewed over 100,000 times on YouTube and over a million times on Facebook since it was uploaded on Friday.
"We definitely wanted everyone to see it," one of the mums Becky has said. "The idea is, we are just normal mums, we love our kids, they love us, and they are just like other four-year-olds, we wouldn't change them. We believe this video really does have the potential to be the most viewed across the world on World Down Syndrome Day this year, so we urge everyone to share, share, share to help us make it a success!"
"I feel so proud to have come up with this idea. People around the world are sharing it and it's crazy to think I came up with this small idea and it has gone so far. I have had messages from anyone and everyone across the world. The video turned out even better than we had hoped and the response has just been mad. Archie loves it, he spots himself straight away and grabs my hand to do the swaying bit," she continued.
We challenge you to just try and watch the video without shedding a tear. Go on, we'll wait.
Photos: Youtube