Child Care Worker Tells Parents To Stop Sending Their "Snotty Kids" To School!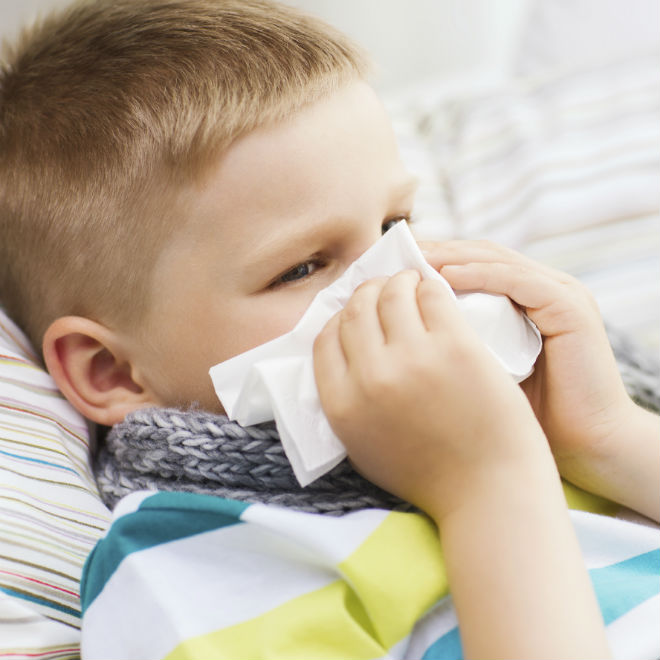 Child Care Worker Tells Parents To Stop Sending Their "Snotty Kids" To School!
Dealing with a sick child when you're a working parent is difficult. Taking days off work to stay home with your little one may be an impossible ask and having babysitters on hand last minute can be just as tricky.
Which is why many times kids are dropped off at child care or school dosed up with Nurofen and Panadol with the hope they make it through the day okay!
I too have been guilty of doing this exact thing. I once dropped off my son to school armed with throat lollies and tissues hoping he would be okay for a few hours while I attended an important meeting. He wasn't- he crashed – and I excused myself from the meeting while I dashed back to get him.
One child care worker recently made the remark that parents "should keep their snotty kids at home."
"If your child has green snot coming from their nose please keep them at home. It is children like these that keep germs in the centre increasing the health risk of others," the child carer told a parenting website on Monday.
"Also I've got a baby so I'm concerned about bringing germs home," she continued.
You can just imagine the response this statement got from outraged parents.
"I am a casual shift worker so no work no pay so it's hard because you have to pay for the day as well as losing wages as well," one mum said.
"I work four days a week and my three-year-old goes to kindy on those days. I feel torn on a regular basis between wanting to stay home with my little one and keeping him away from all the germs he gets but then I have to put food on the table and keep a roof over our heads," said another.
The issue isn't clear cut- there are a lot of grey areas when it comes to sick kids. For example sometimes your child will have a runny nose for weeks on end. There is no way a working parent can take that much time off to stay home until the child's nose dries up. Another persistent symptom is the dry cough. Many times kids will develop a cough that can take months to get rid of. My boys once had a cough the doctor explained as the '100 day cough.' What the actual F?! 100 days of coughing?! Thankfully it got better in about a month but there was no way they were sick enough to stay home!
Another pressing issue for many parents is that they run out of sick leave.
"We are only three months into the year and I have nearly no sick leave left at work. It never ends but with living costs what are you to do!"
"Maybe we need more sick days then. I don't take my kids when they are sick but now I'm -19 hours sick pay and we are only in March. I'm lucky my employer lets me go into minus otherwise it wouldn't be worth having a job. Haven't even got to cold and flu season yet!" one mum offered.
While many parents said they were unable to just drop everything and take days off work to look after their children, they did comment that perhaps employers should be a bit more flexible when it comes to working parents. It's a part of life that once kids start day care or kinder they will be exposed to a myriad of little bugs and germs which they will unwillingly bring home.
"It's not parents who need to change their attitudes about dropping their sick kids off because they have to go to work – it's employers who need to change their attitudes to anyone who has to take off work because they are sick, their kids are sick or a close family member is sick and needs help," one mum said.
A perplexed dad said he was over being told off by child care workers. "You know what – I don't even care anymore. Unless my kids are vomiting, have diarrhoea or a fever, they are going to day care," he said.
"My son has come home with absolutely everything from day care – HFM (hand, foot and mouth disease), conjunctivitis, colds and flu's, multiple viruses, gastro and bronchiolitis. I'm not paying day care to have my child home when chances are he caught it from there anyway and all the other kids have been exposed for days already anyway. Get over it!"
How do you determine whether your child is too sick for school? Is it when they have a fever? Have you ever been told by your school that your child should be home and not in the classroom?