This Dad Just Taught His Son (and All of Us) an Important Lesson About Bullying and Self-Acceptance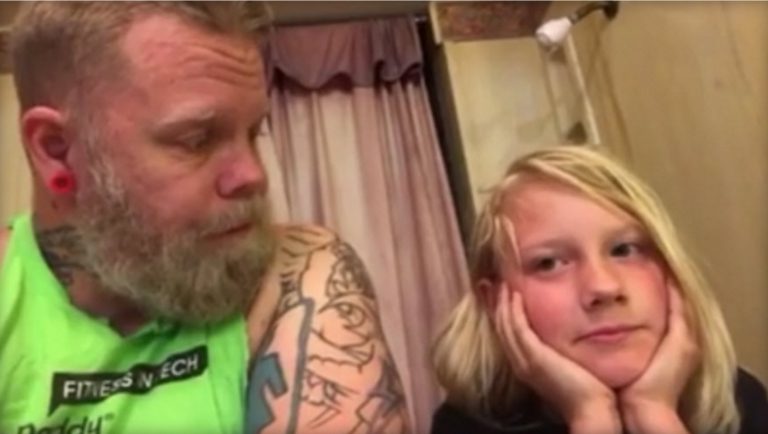 This Dad Just Taught His Son (and All of Us) an Important Lesson About Bullying and Self-Acceptance
As parents, we often look for the learning moment in life's everyday battles, something for us to guide our children about the ways of the world. And sometimes they teach us something important right back, when we least expect them to.
Isaac Irvine is a dad from Arizona in the US. His son, 9-year-old Bodi, came home from school last week upset after other boys made fun of his glorious long blonde hair.
Isaac told CBS News that both of his identical twin boys, Adin and Bodi, decided last year that they wanted to grow out their blonde hair to donate to kids with cancer. Their hair needs to be at least 25 centimetres long before they can donate.
He decided to film the conversation with his son in order to share the video with his friends online, writing that he wanted to read the supportive comments to his boy.
Isaac's teaching moment has since gone viral — his video has been watched thousands of times by people all over the world.
"You got bullied today, huh? What happened? You want to talk about it?"
The third-grader then explained how some boys at school made fun of his hair.
"And some kids came by and said you look like a girl?", Isaac asked in the video.
"Yeah," Bodi said. "It made me feel sad."
"You don't see a lot of boys with long hair, huh? It's pretty unique."
Isaac took this opportunity to explain to his son that people have made fun of himself over the years because he has tattoos, helping him understand that by sharing his story, he is helping others, too.
"You wanna know something secret? Daddy is made fun of sometimes too. People look at me and they're like 'look at that guy with all the tattoos on his neck and his hands and stuff'," Isaac told his son, who replied that he thinks his dad is cool.
Isaac told his son that many people are made fun of for the way they look, even sports stars. He asked Bodi how he handled the incident and was pleased to hear that his son brushed off the negative comments instead of reacting angrily.
But it was the end of the video that was the most touching. You could see Isaac almost bursting with pride as his son understood the value of being true to yourself.
"What you have to remember when someone makes fun of you is, just because you're unique and you don't look like everyone else doesn't mean that you're weird or (that) being different is a bad thing. What do you think?", Isaac asked.
"I think being different is a good thing. It means you think different from other people", Bodi replied wisely.
Isaac was visibly delighted with his son's response, drawing him in for a hug and a kiss on his blonde head.
"Dude, that makes me so happy you said that."
There's absolutely nothing wrong with looking and thinking differently from other people. We all have our own minds, our own individual filters through which we remember past experiences and lessons learnt. It's what you do when you think differently that is important – like growing your hair out to donate to sick children despite being bullied for it.
Isaac told CBS News that he didn't plan for his video to go public, but he's hopeful that it will help other parents talk to their children about bullying.
"I hope they are inspired to be transparent with their kids about their own lives. When you hear someone at school was mean, it's natural to look to the school to solve it. Or tell your kids that you'll solve it. Had I done that, I feel I would be robbing Bodi of an important life lesson. He's stronger than he knows and he can solve this one himself."
Isaac should be very proud.
Source: Facebook