A Five Year Old Has Inspired Grown-Ups With Her Hair Tutorials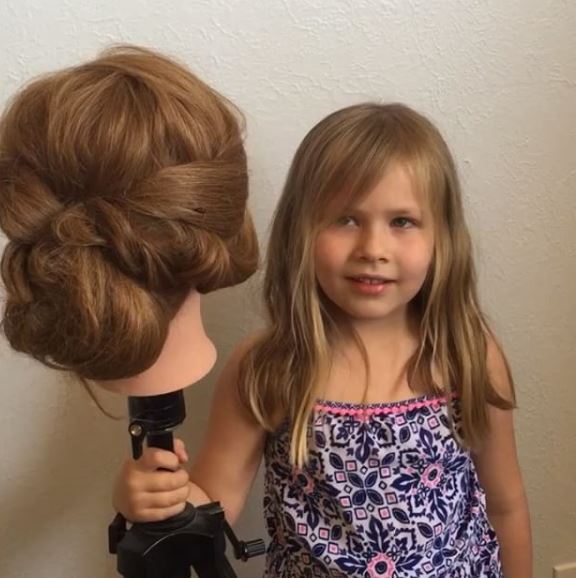 All mums have experienced the grip of terror as their child plays hairdresser and brushes their mummy's hair, creating knots and a beehive of epic proportions.
But one five year old girl is taking the world by storm, styling hair up-dos some hairdressers would envy.
Jenny Strebe, a hair stylist and educator who writes the blog Confessions of a Hairstylist is mum to five year old Magnolia. She was surprised to discover her daughter's amazing hair styling talent after she would bring Magnolia along to each class to help sell t-shirts.
Strebe discovered her daughter had amazing skills when she asked for a hair mannequin of her own.
The mum looked over and saw her daughter style an amazing up-do.
Strebe told TODAY style, "I looked over and go, 'Oh my god. That looks really good. I had never trained her. I think she saw me do what I do in my classes."
"She plays with Barbies and says 'I'm a hairstylist,' but I never forced it on her."

Triple flower bun Updo by me. ???#confessionsofaminihairstylist by @confessionsofaminihairstylist
Each hairstyle is from Magnolia's imagination. Her mother hasn't guided her in any of her hair creations.
As a result of her new skills, Magnolia has her own Instagram account, Confessions of a Mini Hairstylist, where she shares her own tricks in creating beautiful up-dos.
"Yesterday, it was actually amazing. She was walking me through legit terminology like creating layers," said Strebe.

I'm Magnolia I'm the daughter of @theconfessionsofahairstylist I like hair like my mama. This is my first hair tutorial video. I hope you like it. #confessionsofaminihairstylist #theellenshow by @confessionsofaminihairstylist
Magnolia has over 46k followers and over thousands of views on each of her videos.
"It's been so empowering and amazing to see. She is very proud and excited about her hairstyles," said Strebe.

The curl swoop Updo. How do you like the name? I named it by myself. #Updo #confessionsofaminihairstylist #toddlerhairstylist #theellenshow #americansalon #modernsalon by @confessionsofaminihairstylist
Magnolia has scored her first job since starting her Instagram account. She will be styling hair for a local toddler fashion show.
Who knows what the future holds for this mini hairstylist, but it's definitely bright.