Grandma Decides To Tackle Speeding Drivers With A Hairdryer!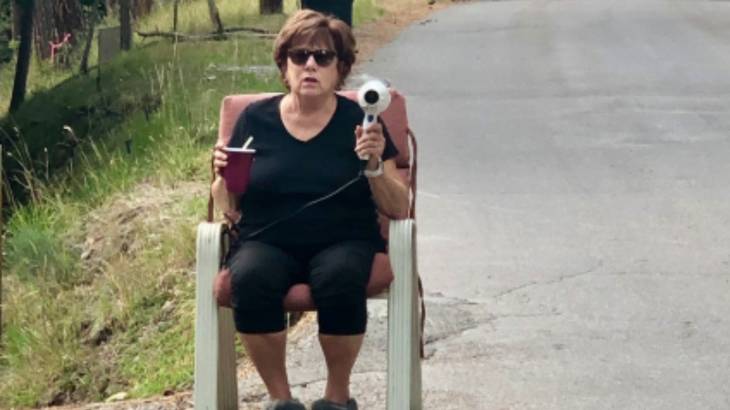 Grandma Decides To Tackle Speeding Drivers With A Hairdryer!
If there's one thing we love to see here at Mum's Lounge it's ingenuity! We love seeing people get creative while at the same time standing up for the better good of the whole community.
Which is why we've decided to award our True Legend award to Polson grandma Patti Baumgartner.
Fed up with constantly having to worry about speeding drivers running over her grandkids or anyone else for that matter, this clever granny came up with an idea to stop them in their tracks- or at least slow them down!
Baumgartner decided she would sit on the side of South Finely Point and point a white hair dryer at cars driving past. She hoped the hairdryer would confuse the drivers into thinking it was a speed gun resulting in them slowing the hell down.
"We were talking about maybe something would slow the cars down. So, we decided to put me in a chair, and I guess use the hair dryer as a speed thing," Baumgartner told MTN News.
Her son Tim took a picture of her with the hair dryer and tweeted it out to Montana Highway Patrol Trooper Noah Pesola in hopes he would see the photo and respond. Which he absolutely did!
"I thought it was hilarious, I think that we have a speed issue in Montana and I thought it was a great creative idea for the public to try and combat that a little bit without making people too upset," said Trooper Pesola.
This Lady is helping @TrooperPesola slow drivers down on Finley Point. She's running radar with her #SoloCup #FinleyPoint #SlowDown pic.twitter.com/zicvdRpCyc

— Timmy B (@timmyb48) August 18, 2019

In fact the grandma was awarded the title of "Honorary Montana Trooper" thanks to her bright idea.
"It's not an official title or anything like that for the honorary trooper, which is kind of what I called it. I didn't know what else to do for her, when she's doing something for the community," he explained.
"And like she says she's got grandkids in the area, so she's doing something for her grandkids benefit. The best thing I could think of was give her a trooper hat and a badge to make her look a little more official," Trooper Pesola added.
What a terrific idea! If that little hairdryer manages to slow down just one driver then Baumgartner has definitely done her job right! In fact I may even give this a go myself…!
Images: Twitter