Man Pranks His Wife By 'Waxing' Her Eyebrows Off While She Sleeps!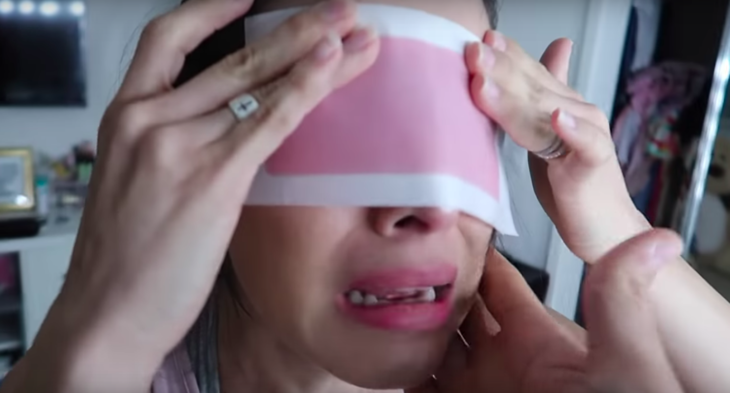 Man Pranks His Wife By 'Waxing' Her Eyebrows Off While She Sleeps!
The internet is filled with weird and wacky videos and occasionally one comes along that makes us say WHAT THE ACTUAL F? This is one of those times!
Popular YouTubers – The Can Family –  made up of professional boxer Niko 'Babyface' Valdes and his wife beauty blogger Cristal Allure are well known for their wacky antics. The couple are parents to a baby girl and often share prank videos on their YouTube Channel. In fact this latest clip was payback for Cristal's prank to husband Niko last week. You see she applied wax strips ALL over his body and filmed his agony as he pulled each one off! Youch!!
So to get her back, Niko targeted something sacred to most women- their eyebrows! Yes- you heard right! Niko set up a prank that would see him wax Cristal's eyebrows off as she slept.
In the clip, Niko sneaks over to his sleeping wife, who is sleeping peacefully on the couch, and applies a massive wax strip on to her eyebrows. Not surprisingly, Cristal woke up, went into full meltdown mode and started crying.
Niko introduced his clip with… "Today I got my revenge prank on my Wife! If you saw the prank video we posted yesterday, my wife Cristal Waxed my whole body with waxing strips. I said at the end of yesterdays prank that I will Wax my wife eyebrows off. So this prank is coming true today. Stay tuned to watch this Epic Couples Prank of Waxing my Wife. PS: She Cries!
As Cristal starts to cry, Niko can be heard saying, "I love you babe and I will love you eyebrow-less. With no eyebrows no other man will try to get you. I will be the only man you love."
His wife is not amused. Especially considering her day job is a beauty blogger. Her eye brows are kind of a big deal!
"You take things so far, Nick, this is not okay," she says. "How am I supposed to take this thing off? I'm going to have no eyebrows."
Half way through the clip, Niko reveals to Cristal that it's not real wax and that he's put double sided tape onto the strips. She doesn't believe him and continues to freak out. As you would!
It's not until he swears on their daughter's life that she attempts to remove the strips. And thank goodness the only thing that comes off is her make up! While clearly relieved, the mum of one is still annoyed and can be seen storming off in the video.
And if you think that was bad…you should check out the video of them telling their daughter they were giving away the family dog. Not cool!!
Images: Youtube