Maria Kang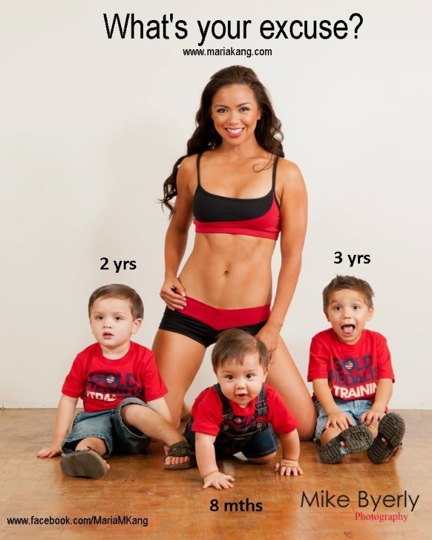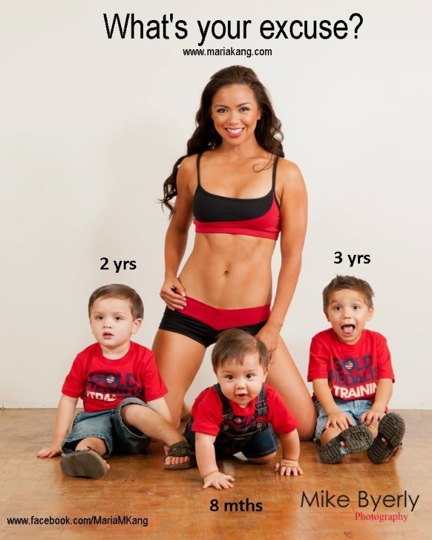 Maria Kang, a 32-year-old mother of three and fitness competitor sparked uproar recently with a photo that she posted on social media site Facebook. Kang posted a photo of herself in her workout gear, surrounded by her three young children, exposing her toned and fit body. The caption read "What's your excuse?" Many lashed out at Kang as a result of this photo claiming that the tone of the picture was obnoxious, rather than motivational.
Kang's photo had tallied nearly 156,000 likes and nearly 16,000 comments at the time of this post, and it had been shared more than 12,000 times. Some rallied behind Kang at this most controversial time in her career, although many negative comments outshone the supporters.
Negative comments highlighted by Yahoo Shine included:
Those precious little things need their mommy more than they need you to have glamour muscles.
Not that I *NEED* an excuse for not working out, but here's mine you self-righteous idiot … fibromyalgia.
You are part of the body shaming problem that is going on in North America and other parts of the world.
You are a bully with a super inflated sense of your own self.
Yahoo Shine reported that Kang replied to the many criticisms with regards to her photo by attempting to answer the most negative comments. These answers included confirmation that she has a job (she owns two residential-care facilities for the elderly), she does not have a nanny, the image was not manipulated with Photoshop, and, confirmed that the children in the photograph are all hers.
She also added what she called a "non-apology" to her Facebook post containing the photo:
Read more about her "non apology" here at All Facebook – The Unofficial Facebook Blog.
Romina Garcia is a mum of 4 and columnist at Mum's Lounge, the leading national website for mums. You can read more from Romina and other columnists at Mumslounge.