Petition Is Launched To Stop ETSY Selling Incest And Child Abuse Themed Merchandise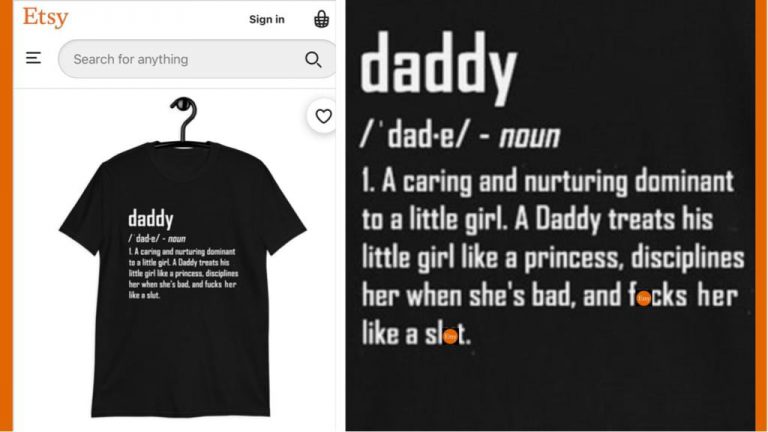 Petition Is Launched To Stop ETSY Selling Incest And Child Abuse Themed Merchandise
ETSY is an American online selling platform which allows sellers to display and sell their handmade or vintage items. It was NOT created as an avenue to sell 'incest fantasy' merchandise with slogans promoting child abuse. A petition has been launched calling for ETSY to shut these sellers down.
The daddy-daughter merchandise features obscene slogans which do nothing but make light of situations many vulnerable children find themselves in every single day. People are demanding that Etsy get rid of these disgusting sellers immediately saying "'This sick 'fantasy' is reality to so many children, how can Etsy excuse and facilitate the sale of this tee-shirt?'
How indeed?
Anna Cordell, an Aussie fashion designer and parent herself has spear headed a petition on change.org to get these items pulled from the platform. Here's what she has to say:
"I am an Australian fashion designer, singer-songwriter and mother of 5. Until recently, I was also an Etsy seller.
But then I saw a range of really distressing merchandise on Etsy and I shut down my shop straight away.
I couldn't believe what I was seeing! Child sex abuse dolls and body parts, child abuse and incest-themed products with slogans begging a father to use his own daughter. Not just words but images depicting young girls as wanting to be violated.
So I've launched this petition because I don't think child sexual abuse should be normalised and turned into something to make money from. Children's charities say incest-themed images give permission to predators and put children at greater risk.
These products appear alongside cards for Father's Day and books and baby clothes. Girls shouldn't be presented as sexually available to anyone, let alone a parent.
As a mother of five who, like all the mums I know, wants to protect their children from abuse, I feel I need to do something. Corporate Social Responsibility is really important. Etsy is a bad corporate citizen, enabling significant harm to the most vulnerable in our community."
Unbelievably, after launching the petition, Anna received hundreds of letters from supporters of the merchandise who felt she was trying to censor them. They called her 'vanilla' and claimed she was trying to shame adults for their sexual preferences. Regardless if those 'sexual preferences' were in fact 'child abuse' and 'pedophilia.' This is NOT a sexual preference. It is not a consensual interaction. It is called child sexual abuse.
In an updated post, Anna has informed her supporters of where things currently stand between her and the deluded people who have written in in support of the Daddy-daughter merchandise. Here's her letter:
"Dear Supporters
After I launched this petition, I saw a lot of comments on social media from people defending Etsy's incest and child abuse themed merch. They said things like 'Daddy-daughter sexual themes are about 'fantasy', not real abuse of girls by their fathers', and that I was shaming 'consenting adults' for their sexual preferences.
Collective Shout responded to some of the claims made by Etsy defenders – and highlighted why we must keep the pressure on Etsy to dump its range of incest and child abuse themed merch. As long as they continue to promote these sexploitative products, they're putting real women and girls at risk. You can read more here.
Thank you to the hundreds of new supporters who have signed over the past couple of weeks – I'm so grateful! Don't stop now – keep the petition moving and help it reach 50k signatures by sharing it with friends, family and on all your social media pages.
With thanks,
Anna"
If you'd like to add your name to the growing list of supporters who'd like to see these sellers shut down, you can sign the petition
here.
Images: Change.org & Etsy