Reusable Toilet Paper Called 'Family Cloth' Is An Actual Thing!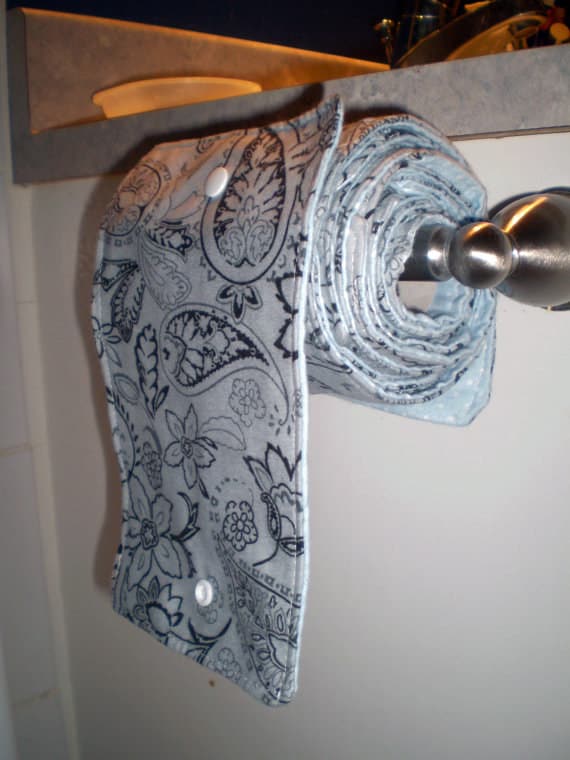 Reusable Toilet Paper Called 'Family Cloth' Is An Actual Thing!
Toilet paper is a shopping staple that is always at the top of the list when visiting the supermarket. In fact I was just writing mine a few minutes ago and it looked something like this…milk, bread, toilet paper, wine… It is definitely up there as an essential purchase!
So imagine my surprise when I discovered some families are no longer buying toilet paper. Instead they're using something called the "family cloth" which is essentially a cloth wipe that is used once per bathroom visit then put in the laundry basket to be washed and reused.
I know you just made that face you do when you discover someone doesn't drink coffee but stay with me here.
Apparently the family cloth is a cheaper and more environmentally friendly alternative to toilet paper and is slowly gaining popularity amongst those who care about the amount of paper and money they're literally flushing down the toilet.
Buzzfeed spoke to a user of the disposable paper and asked some pressing questions that we are all thinking as we imagine putting a used 'cloth' in the hamper to be washed.
"In my mind, buying and using disposable toilet paper was literally flushing money down the toilet!" the anonymous user said. "If you're wondering, 'Why would you want to reuse something that you wipe your genitals with?', I'd answer this question with my own question: 'Do you throw away your underpants after each use?'"
The woman also added that her family currently only uses the cloth wipes for wee wees (yes, that's a scientific term, look it up). When it comes to doing a no. 2 then it requires a baby wipe, which is thrown in the bin rather than down the toilet.
"At the moment, we don't use the cloths for poop; they're just for pee. We use baby wipes because toilet paper just doesn't get the tushy clean enough, but we never flush wipes because it clogs the pipes.The ultimate goal is to attach bidets to our toilets, and then use that to cleanse after a poop and then, yes, to use the cloths to pat dry. I have no problem with some cloths sitting for a day in a hamper that have some pee on them, but I would definitely not want cloths with big smears of poop sitting around and going into the washer. That's my limit. So the bidet is necessary because that does the cleaning. Then, the cloths are just for drying that water off. This, however, will take a bit more money, and probably a little bit of convincing, coaxing, and coaching with my kids,"she continued
So it seems while most people only use it for number 1's and go back to toilet paper for pooping some are in fact using them for everything. And what about when guests come over? Do they have to bring their own toilet paper or do they use the cloth too?
"People often ask, 'Do you have something else that I can use when I come visit?' The answer is always yes, although they should feel welcome to use the cloth if they're so inclined. We always keep a box of facial tissues in the bathroom cabinet for guests. Some of our close friends and family already know that and just grab it when they wanna go. Some of our friends and family just use our cloth because why not?! But when we know ahead of time that people are coming over, we just get the box of tissues out and set it on the sink vanity," the user explained.
Alrighty then. On a side note, they do come in a lot of pretty colours and patterns! What do you think? Is this something you could see yourself introducing to the bathroom?
Images: Instagram and Etsy