School Holiday Fun With Foxtel's Footy Festival In Melbourne!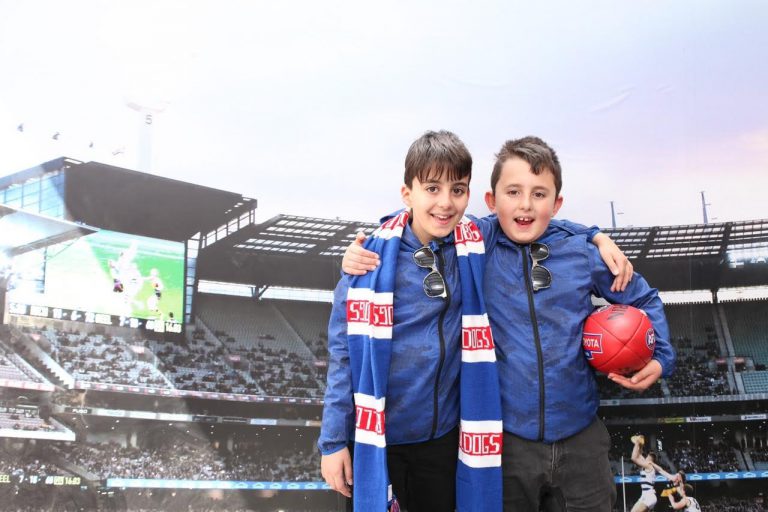 As the school holidays come to an end the kidlets and I decided to see them off with a bang and attend the annual Foxtel Footy Festival which is held every year in Melbourne. The festival celebrates the best Melbourne has to offer in food, music, movies, and of course, footy! Held in the lead up to the AFL Grand Final it's a great opportunity to spend a thoroughly Melbourne day at Yarra Park next to the majestic and iconic MCG!
The park was a flurry of activity as we excitedly approached the children's section where a vast expanse of fun lay before us! Our first stop was the CBeebies stall which my kids still love to visit although they tower over most of the little kids in there. They loved taking photos with all the characters and completing all the cool activities like puzzles, matching games and playing in the clubhouse!
The kids were lucky enough to take home a show bag with their very own Duggee soft toy which very quickly found a spot on their bed with all their other favourites!
Next stop- Disneyland! Well not exactly, but there were lots of Disney celebs that my kids knew and Super Mario challenges for the little ones to take part in. There was a Cars slide and lots of Disney Junior fun to take part in. My kids had their day made when they met Mario (aka Jackson from Disney HD.)
All in all the boys and I had a massive day and we came home wrecked but happy! The Foxtel festival is on for one more day in Melbourne- and seeing as it's a public holiday in the sport crazy state, it's the perfect chance to head on down and have some Melbourne fun! Kick a footy, have a kebab and definitely get slimed! ( I've been assured all the green gloop totally washes out of from hair and clothes…I'll let you know how that goes.)
Oh, I have to add one more thing here- what kind of Melburnian would I be if I didn't say- Carn the Doggies!!!
Photos: Supplied