This Teacher Lets Her Students Decorate a Gorgeous Dress For Her Every Year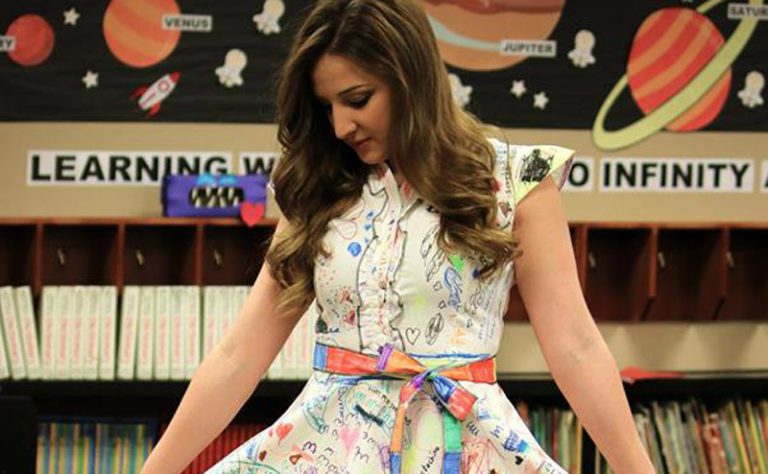 This Teacher Lets Her Students Decorate a Gorgeous Dress For Her Every Year
A teacher has created a brand new tradition for herself and her class by having them decorate a gorgeous dress for her as a beautiful keepsake.
Oklahoma primary school teacher Haley Curfman shared the idea on her Facebook page The Weary Teacher, where it has been shared more than two hundred thousand times.
"It's the second year in a row I've brought a white dress to school and my students have filled it with their artwork. This is one of my favourite things to do in my class!", Haley wrote.
"This is something I'd seen on Pinterest a few years ago and I fell in love with the idea. I think every teacher should do this! It's a great project and an even better keepsake."
"We don't have art in our school, so, I always try to do little creative projects when possible," Curfman told Scary Mommy.
"I use the dress more as an incentive project," she explained. "When they finish their work or have a little free time they can go draw. I set up a station at a table with the dress and the markers."
Haley explained that this is the second year that she has had her students decorate a dress for her, adding that she hopes to do one every year as a keepsake.
"I get the dresses off Amazon for less than $20 and use fabric markers from Walmart. When the dress is finished, I surprise my students and wear it to a party."
Last year, she showed her students their finished masterpiece at the class Christmas party and this year she showcased her student's work at the Valentine's Day party.
"Then I just put it on display. Last year I entered our dress in the county fair and our class got a blue ribbon," Curfman revealed. "I think I will do that again this year, so all the students can see it proudly hanging at the fair."
This is Haley's first dress that won the blue ribbon last year, decorated by her Year 2 students:
What an absolutely divine idea!
Source: Facebook/The Weary Teacher