These Amazing Side By Side Photos Prove That Magical Photoshoots can Happen Anywhere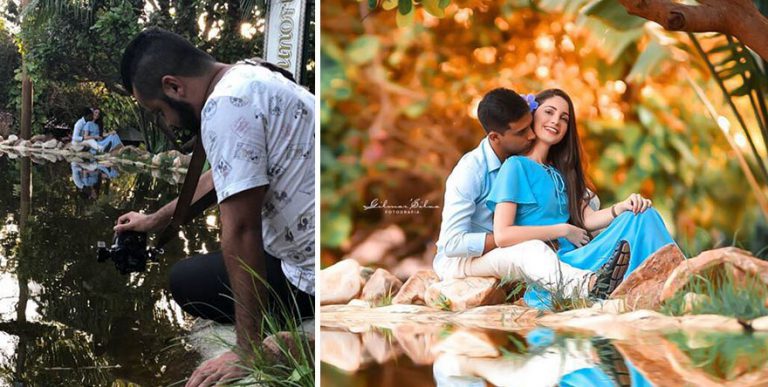 These Amazing Side by Side Photos Prove That Magical Photoshoots Can Happen Anywhere
Now that we all have amazing cameras on our smartphones, parents have been taking truly gorgeous photos of their children to share with friends and family on social media. Gone are the days of lining the children up in front of an attractive bush in the backyard though, we need to put more effort in nowadays and be a little creative to get those Insta likes!
A supremely talented photographer from Brazil has been sharing incredible composite photos proving that any photoshoot location can produce an amazing end result, even beside a muddy puddle or inside a piece of industrial concrete pipe.
Using his Instagram account, Silva shares the real version of the photoshoot as well as the finished edited product side-by-side in a series he labels LUGARxFOTO, loosely translated as "location" and "photo". And the results are simply stunning and almost hard to believe!
An uplit umbrella creates a magical effect
2. A patch of floral plants make for a beautiful sunny background
3. A puddle provides the perfect frame to edit a reflection in later
4. Concrete pipes turn into a cosy hiding place
5. Who would have thought that this would be the ideal place for a photoshoot?

6. A rainy street is given a new perspective with this a picture of Gilmar Silva himself
7. It is amazing how the most boring and darkened locations can be transformed with a little imagination and a lot of talent!
8. This roadside is transformed into a gorgeous magical garden
9. We're not sure what his assistant is up to back there, but the effect is stunning!
10. This busy city street photo is my favourite, even if it were a little inconvenient for motorists and passers-by!
11. Powerpoles and buildings can be easily reframed or edited out 
12. This stunning effect takes three helpers! Two to splash and one to perfect the lighting.
13. What an adorable little one perched in a tree!
14. Shining a light through a Powerade bottle casts a gorgeous blue glow
15. I bet this pregnant woman didn't believe it when her photographer suggested a roadside puddle for her photoshoot! And I bet she was stunned with the result, too!
16. Gilmar's imagination is incredible, his talent even more so!
17. Even a bench in the park can be transformed into a beautiful moment.
18. Just beautiful!
19. Using one strand of fairy lights sets the scene for more to be added later.
While there is clearly a lot of editing involved to create gorgeous lighting and special effects, the locations he chose to take the photos are astonishing and inspiring. Who knew that you could get a beautiful result from ordinary locations like by the side of a busy road or sitting on an ordinary bench?
I've written about photographer Gilmar Silva before, over on our sister site Go Ask Mum, focussing on his gorgeous maternity photoshoots. Check those pics out too, they are stunning!
Source: Instagram/Gilmar 'Silva Fotografia