Angry Bride Posts Shocking Rant on Facebook After Her Guests Refused to Pay Thousands to Attend Her Wedding!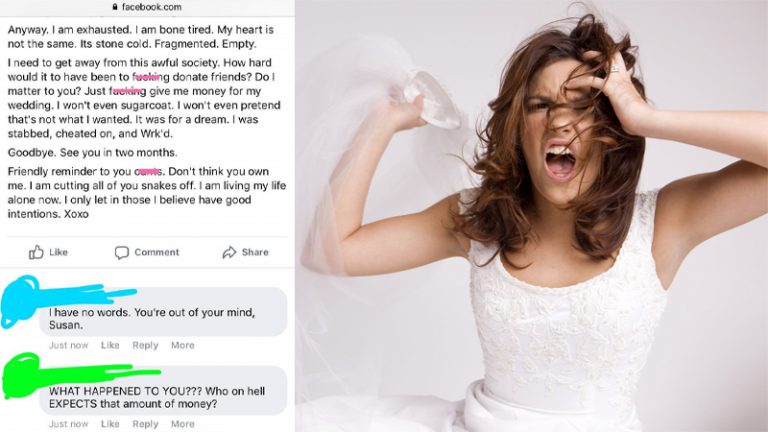 Angry Bride Posts Shocking Rant on Facebook After Her Guests Refused to Pay Thousands to Attend Her Wedding!
Call off the search, we have found The World's Biggest Bridezilla. We're not kidding. This angry bride is something else.
A family member of the bride has shared screenies of her epic Facebook rant on Reddit, explaining that she took the scorched earth approach to her friends and family's understandable reluctance to shell out $1,500 apiece to attend her wedding on a Caribbean island and blaming them all for ruining her life and her marriage.
Bless this anonymous relative. Bless her beautiful soul. For this is just the sort of random internet drama I live for, and I know you guys are going to love it too. Everyone pile into the drama cabana and get comfy. This is a wild ride.
I just realised that I probably should have blurred a few words out there, hey? Oopsie.
After posting the series of screenies to the Reddit sub Choosing Beggars and clocking up thousands of comments and upvotes, our unnamed hero deleted her account. Possibly because her face is right there. Happily, the images are still available to peruse on Imgur, and the Angry Bridezilla story has gone viral.
Let's just do a quick recap.
The bride, Susan, fully expected her nearest and dearest to fund her expensive dream "Kardashian" wedding on a tropical Caribbean island because a local clairvoyant told her to go for it.
Then got super-pissed when people ultimately opted not to spend their hard earned on the opportunity to witness her "exclusive" "once and a lifetime (sic) party".
It is unknown whether the $1,500 each guest was required to front up was in addition to their airfares and accommodation costs, but it certainly would not come as a surprise if it were.
"I mean seriously people, what is $1000? What is $1,500? Clearly, not a lot."
Our screen-grabbing hero commented that the "Kardashian-obsessed" bride once did something similar when she had a baby shower. She added: "I'm very glad she broke things off with her ex as I truly believe she needs to evaluate herself and her life."
The poster went on to say "nobody believes" Susan is actually going to South America as she has never been outside the US before and speaks no other languages. "At her state right now, she sounds like the perfect candidate for a sugar daddy," she continued.
So she's got that going for her, anyway, which is nice.
Source: Imgur and Queer Eye♥