WA Know it All MKR Contestants Accused of Cheating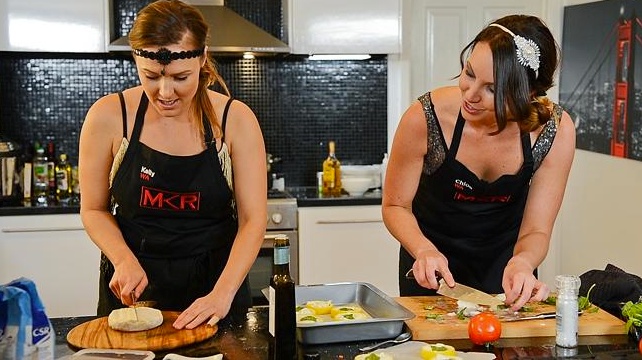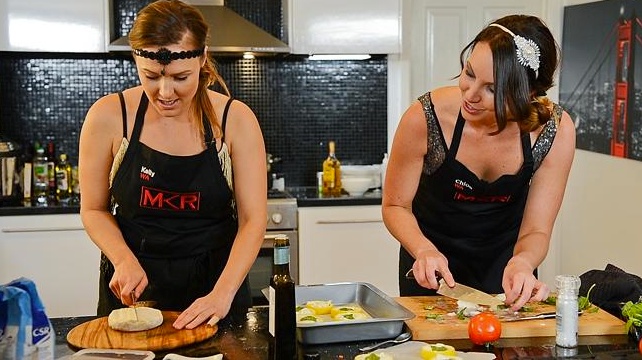 TV Scandal: MKR Contestants Accused of Cheating
What's worth its weight in gold for television ratings? Conflict, of course. And there's no shortage of it when competitive girls get a knife in their hands. Yup, the new season of MKR has the requisite 'nasties' and this season that honour lies with a 'ruthless' pair from WA. Mouthing off at the culinary ineptitude of their fellow competitors has left a bad taste, but not for viewers. Last night a record breaking 2.11 million viewers saw Chloe and Kelly brought to heel by outraged Tweeters and the MKR judges.
The KKR contestants were accused of cheating by using store-bought bread and puff pastry, and not deboning their own rabbit, the overly-confident, self-proclaimed experts in the kitchen were retained on the show by less than the skin on their aforementioned de-boned rabbit. Meaning – there was a mealy two points between Chloe & Kelly and the MKR pair who are not returning to the kitchen show this season.
Manu and Pete blasted the two for their 'cardboard' millefeuille and 'mediocre' cheese entrée. OK, so their rabbit & snail paella was 'sensational' according to the judges. But social media took to the airwaves to provide criticism in 140 characters or less.
Today the Sydney Morning Herald reported that Chloe and Kelly have been trying to avoid looking at social media, and no one could blame them.
Facebook posts included comments like, "I wish these girls would f— off and die".
Kelly refered to the upsetting images of the pair hanging from a tree on Instagram as 'really horrible' and said "My mum has been crying about it a lot….People have no idea that we're real people, we've been made the villains of the series and people have said horrible things about us."
Regardless of how the WA pair have acted or been portrayed on MKR, social media bullying (as Big Brother contestant Sully found out last year) is a real and growing issue.
It's no secret that these reality shows always have distasteful contestants. Do we need them? Is the public duped by careful editing? Should they accept what the public dishes out? Tell us what you think.