How Many Glasses of Wine are Too Many?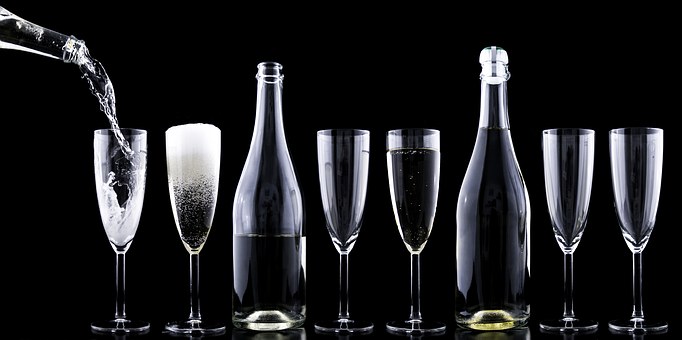 Have you ever looked up the definition of alcoholism? I have.
It's defined as being obsessed with alcohol and being unable to control how much you consume, even if it is causing serious problems at home, work, and financially. Of course it's a little more involved than that but the crux is – if your drinking is causing problems with your work, your friends and your relationships then you most likely have a problem.
It's something I've wondered about myself over the years because I have a long-time obsession with drinking wine. I LOVE wine. And if I were to see every empty bottle lined up in a row that I've consumed I would probably be pretty bloody horrified. There is always wine in my fridge with spare bottles ready to go in the wine rack. The only wine I like is chardonnay.
If there's no chardonnay in the house, I go without (like that's ever going to happen). But seriously, I don't drink anything else – there's no bottles of vodka hidden in the toilet cistern for emergencies.
But nearly every photo of me in a social situation whether it's at a party or out in the middle of the bush by a campfire you will see a glass of wine in my hand.
For me, 5 o'clock signifies wine o'clock and that's when I pour my first glass. I love the delicious feeling of warmth that flows through my body and brain after that first glass so I pour another and probably one more after that. I like to get to that sweet spot where I feel blissful and relaxed without a care in the world. Wine is my cure for my anxiety; a condition that has plagued me most of my life. I may be anxious through the day for a myriad of reasons but in the back of my mind I know that later in the day I will have my down-time with my wine.
Friends who drop by after 5pm will note the wine in my hand, on the kitchen bench or next to me on the couch and I'm sure there have been many discussions about my nightly habit (should we stage an intervention, do you think she can live without it, she must have a problem).
My kids are used to it but I often wonder what they think about it and sometimes I'm embarrassed to be the only one pouring myself another glass when everyone else is drinking water or soft drink. Do they think "there she goes again."
And has it caused problems in my life? Only when it comes to obviously being unable to drive after 5pm. I'm a small person and one glass, if maybe not putting me quite over the limit would certainly see me very close to it.
Have I tried other things for my anxiety? You bet I have. Anti-depressants which cause side effects, specific anti-anxiety medications which work brilliantly in a pinch but cause massive addiction problems long term, exercise, therapy but nothing works quite like a glass or two of vino.
Last year I did a month long health kick which involved a detox including no alcohol. My husband was seriously worried he would have to move out. He was sure I was going to suffer all sorts of fits, delusions and tremors and to be honest I was slightly concerned myself. But I was pleased to learn that other than feeling a little strange the first two nights, there were no unpleasant side effects from NOT drinking.
And lately I have been trying to abstain two nights a week just to give my liver and kidneys a break. The funny thing is that whilst people have been watching, judging and joking about my wine consumption they don't realise that my husband's Pepsi Max cans are spiked with Wild Turkey or Jack Daniels but they just can't see it so no one EVER judges him.
I'm pretty sure my doctor wouldn't approve of the amount I've consumed and I'm guessing that my internal organs would thank me if I quit but I can't see it happening anytime soon. I exercise daily, I eat well, I don't smoke and this is my one vice. I've never really spoken about it before and now here I am putting it out there for the world because I suspect I'm not alone in this…