Pom Pom Scarves: The Fun Accessory for Winter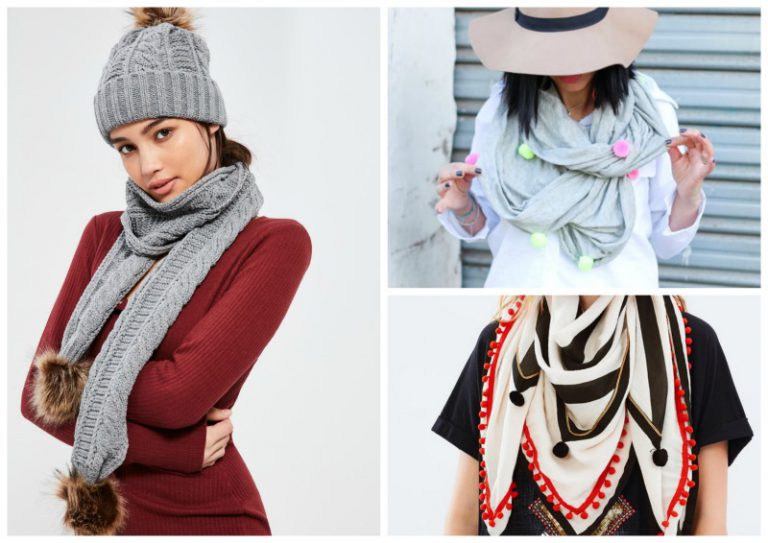 Pom Pom Scarves: The Fun Accessory for Winter
Pom Poms are the accessory of the season and they are being adorned on bags, key-rings, earrings, beanies and scarves.
Pom poms can add a bit of fun to your outfit and they can add extra interest and texture on a simple scarf.
They might remind you of a cat toy, but they look a little fun and childlike and who doesn't want to revisit some part of their childhood again?
We've scoured online and found some of our favourite pom pom scarves to suit all budgets.
If you don't know how to wear a pom pom scarf, this post will give some ideas, but simply wear it as you would any other scarf, but keep your outfit simple so your scarf can do the talking.
Pom Pom Scarves to suit all budgets
Witchery Pom Pom Scarf $79.95
2. Missguided Faux Fur Pom Pom Cable Knit Scarf $10.00
3. Portmans Lurex Knit Scarf with Pom Pom $34.95
4. Paul Smith White Pom Pom Scarf $249.00
5. Sass & Bide Always By My Side Scarf $275.00
6. Paul Smith Black Pom Pom Scarf $249
7. Etsy Pavlova Pom Pom Infinity Scarf $50.00
And the kids can't miss out.
8. Country Road Pom Pom Knit Scarf $44.95
Disclosure: There are affiliate links on this post. Should you choose to purchase an item, we will receive a small commission at no extra cost to you.