Abdomend C-Section Recovery Kit Reviews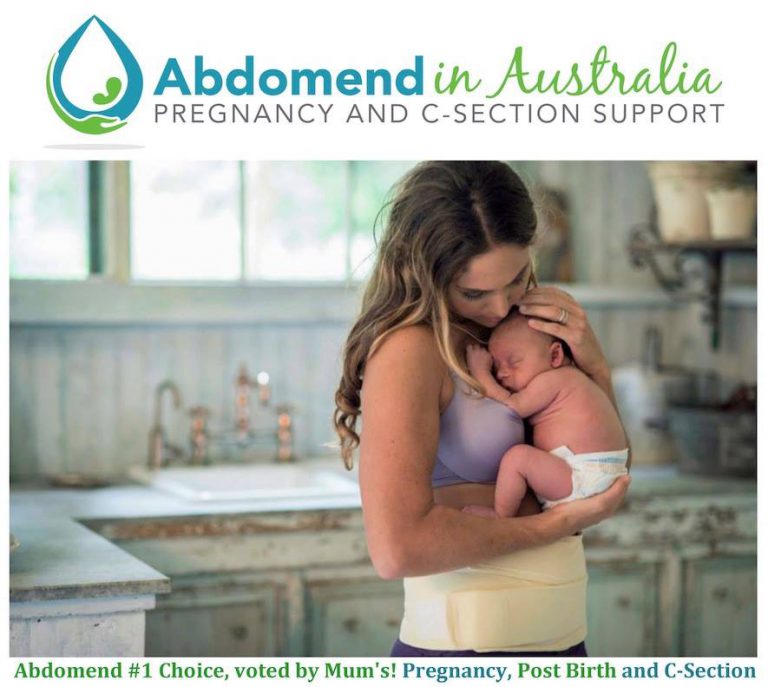 What is the Abdomend C-section Recovery Kit?
The Abdomend C-section Recovery Kit, is an award-winning maternity product designed to provide a safe and healthy approach to pain-relief, discomfort, mobility and muscle recovery following a caesarean.
The Abdomend binder supports your incision from tearing and infection, reduces pain and speeds up mobility and recovery, whilst also reducing bloating, shrinking the uterus and binding the abdominal muscles allowing them to repair.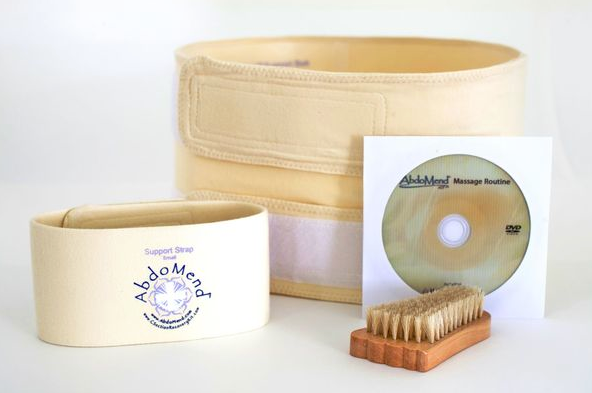 The binder is safe to be worn as soon as possible after delivery, giving you the much-needed support you need during the early weeks to hold your baby, move around, cough, sneeze, etc.
The C-Section Recovery Kit includes the unique Abdomend support binder and strap, scar therapy massage and relaxation DVD and skin brush. Using the binder in conjunction with the simple scar therapy techniques allows for a healthier flatter scar, whilst also being a great way to relax as you care for and get to know your new baby.
Abdomend also have products suitable for use during pregnancy, and post-vaginal birth.
To see their range, visit www.abdomend.com.au
Find Abdomend in Australia on Facebook
Abdomend are offering Mums Lounge readers FREE SHIPPING on all orders.  Simply use the code MUMSFREESHIP at the checkout to redeem this offer.
The Reviews
Abdomend gave 5 Mums Lounge members the chance to trial their Abdomend C-Section Recovery Kit and share their experience and thoughts:
I can highly recommend Abdomend and I have done to all my friends and my mothers group. I didn't wear anything with my first child (born via c section). Recovery was long and my abdominal muscles never felt the same.
I have birth to my second son 6 weeks ago and have worn the Abdomend since day one post c-section. I have noticed such a great difference. My abdominal Muscles are repairing themselves much quicker. Even to the point that my Ob Gyn was very happy with my progress and asked what I was wearing.
I seriously recommend this product to every lady both c section or natural. You not regret it plus the price is unbeatable.
~ Alyse
I had terrible nerve pain after my C-Section and don't know how I would've gone without the Abdomend. As soon as I put the support panel on I felt immediate relief.
It definitely assisted with being able to sit up and get moving which we all know is vital to recovery after surgery.
The fabric is soft and breathable against the skin which was great. The information booklet was clear and informative. The skin brush is a nice added benefit.
The only down sides I found was that it was a little tricky to put on and usually had to get someone to help me.
The hospital were very wary of me using it and made me see a physio who also didn't know much about it (didn't bother me it was just annoying to waste the physios time because the nurses had no idea about it and thought I could be hurting myself).
I found the Velcro kind of dug into the wound area unless I pulled it down quite low which then made it uncomfortable to sit up. Not sure if I was doing something wrong but I did work around it.
Overall it was very beneficial and I'm so glad I had some extra support.
~ Erin
I found the Abdomend to make me feel quite secure around my c section site. I felt more confident to move around whilst I had it on. However, I found the way I was instructed to put it on quite difficult. I found quite awkward and sometimes painful in the early days to lay flat on my back to strap the belts in place. Getting back up afterwards proved to be difficult at times too. Something to put on whilst standing I would find to be a whole lot easier.
The belt was quite stiff to bend over in and sometimes it would roll up if I was to wear it as instructed to.
I found the brush provided quite handy to improve circulation to the area and the dvd informative as well. It was easy to wash and didn't take too long to dry.
~ Mel
Not only has the Abdomend belt helped repair my tummy muscles, but I haven't had the horrible post-birth backache this time around. I found the instructions easy to follow and the belt was comfortable to wear. (I was concerned it may rub but it didn't, and actually helped reduce pain!) I can feel my body bouncing back to shape so much quicker, and without any extra effort (which is great, because with a small baby to take care of, there isn't much energy left to even think about exercise at the moment, never mind do some!) If you know someone who is having a planned c-section tell them to pack this in their hospital bag, and start using it straight away. I promise, they won't be disappointed!
~ Beccy
I had an emergency c-section 12 years ago with my first & it was a long & painful recovery, due to complications & one which I did not want to revisit second time around. I was in hospital for 2 weeks & ended up discharging myself to see my own Dr for recovery.
When I visited the pregnancy & baby expo in Brisbane this year, I saw this product – the Abdomend recovery kit & had a great conversation with the lady about how it might help me. I had decided then that i would like to try this out for the birth of my little girl, as we were having a planned c-section.
As it had been 12 years, although my experience had not faded, the memories of the pain had.
The c-section went as planned & was a success, could not of asked for a better experience than the last one, getting to meet our daughter straight away. I had an epidural catheter which remained in for 24 hours after surgery. It was suggested that I do not put the support band on over this.
The midwives encouraged me to get out of bed that first evening for a shower, which I did without the belt on, but due to the amount of painkillers, the pain was masked, which was good.
The next day, I waited for the Dr's to come around and assess whether I could have the epidural removed, which they did & I was then able to put the belt on & again get out of bed.
Wow what a difference that made to my day. The belt supports your insides, your back, your belly & holds everything in one place. Your body is not having to do the work of supporting, which is noticeable when you take the belt off. On the days where I waited to put the belt on, I felt the change in my body, trying to support the wound & the area around it. The second I put the belt on, I felt I could stand up & sit up straighter, not have to strain my body & the tingling feeling in my wound area would subside. I was able to walk around, carry bub & go about my day.
I left hospital after 72 hours, which is incredible, I never thought that would happen, I was home with my family & able to walk up & down our stairs, which at first terrified me to attempt.
I truly believe that if i did not have the support of this belt, my recovery time & discharge time would of been longer, my pain would of been more intense and I would of felt a little more fragile than what I was feeling.
Unfortunately, after 2 weeks at home, I had contracted an infection in my wound, uterus & a UTI, & I landed back in hospital. This was not on the plan for recovery & the pain i was feeling was worse than the c-section pain.
What I learnt from this & would suggest this to everyone, is that after your shower & when you have cleaned your wound, that you allow it to air dry, before putting the belt back on, maybe use that time for the skin brushing or meditations. I did not do this, I patted it dry & then put the belt on.
My pain is still there due to my most current hospital stay – but again I am sitting writing this with my belt on, as it decreases the pain 10 fold & allows me to get about my day. I can't imagine having to strain my body at his point to pick up bub (who is over 4kgs), get out of bed, bend & climb my stairs, without the support of this belt.
Thank you so much for giving me the opportunity to try your product, I am so grateful for this & will be recommending it to my friends & businesses who may have a need for it. It has definitely been instrumental in my recovery.
~ Alexandra